World news story
The GREAT Debate 2017-18 in Kolkata
The British Deputy High Commission in association with Jadavpur University Debating Society held the Kolkata chapter of 'The GREAT Debate' competition today.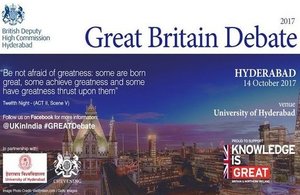 Kolkata's top colleges and universities participated in the debate, including:
Presidency
St.Xaviers' College
Calcutta University
Loreto
Amity University
Heritage Group of Institutions
Techno India Group of Institutions
JIS Group of Institutions
Scottish Church College
Hazra Law College
NUJS
Gokhale
Sri Shikshayatan
Bhowanipore Education Society
ILead and ISERK
These institutions fielded 42 teams for The GREAT Debate. The theme of the Kolkata chapter of the debate this year was 'Skills, Entrepreneurship and the Youth.' Both the preliminary and the final rounds saw enthusiasm and debating skills were at the fore with young people tackling complex issues with innovative arguments.
The GREAT Debate is a unique opportunity to celebrate the UK and India's shared culture of vibrant discussion and debate. Organised by the British High Commission, the GREAT Debate competition this year is being held across the country. Apart from Kolkata, the GREAT Debate is being held in Vizag, Jaipur, Hyderabad, Bhopal, Chandigarh, Dehradun and New Delhi.
The judges for the GREAT Debate were:
Bruce Bucknell, British Deputy High Commissioner Kolkata
Sujata Sen, CEO of Future Hope India
Professor Mallar Ray, The Indian Institute of Engineering Science and Technology, Shibpur
Speaking on the occasion, Bruce Bucknell said:
Debate is alive and well in India. From the CPM to the Sangh Parivar, from Arnab Goswami to the students of JU, debate is often loud, chaotic and trivial. But there is debate. And out of debate and argument comes critical thinking without which democracy cannot flourish. I was delighted to see the participants in the GREAT debate in Kolkata enjoy their chance to test their debating skills.
Media
For media queries, please contact:
Stuart Adam, Head,
Press and Communications
British High Commission, Chanakyapuri
New Delhi 110021
Tel: 44192100; Fax: 24192411

Follow us on Twitter, Facebook, Flickr, Storify, Eventbrite, Blogs, Youtube, Instagram, Snapchat @UKinIndia, Periscope @UKinIndia
Published 17 October 2017