News story
The GREAT British Film Reception 2015
The British Consulate General Los Angeles held its annual celebration of UK accomplishments in film on 20 February.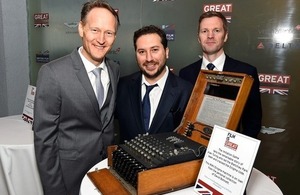 The GREAT British Film Reception, now in its fourth year, showcased British talent in front of top Hollywood decision makers and the world's media two nights before the 87th Academy Awards ceremony. The 29 British nominees for Academy Awards present embodied UK excellence in all aspects of filmmaking. British actors from the worlds of film and TV added star power. An original Enigma machine caused excitement for fans of "The Imitation Game," and a well-guarded Oscar on loan from BAFTA-stalwart Arnold Schwartzman was treated as a guest of honour.
Guests also saw a mock-up of Virgin Atlantic's soon-to-be revealed Clubhouse at Los Angeles Airport and a GREAT-wrapped Aston Martin 2015 Vanquish coupe.
The message to the US and international media was clear: The UK's 40 nominations in 20 of the 24 Academy Awards categories showed the UK was a world leader in film. From front-of-camera talent to artistry in cinematography to creativity in visual effects, the UK nominees embodied performance at the very top level across the board. And representatives from made-in-UK films like "The Imitation Game" showed that the UK is a world-class location for international filmmakers to make movies.
"This is a night to celebrate a true success story for the UK" said Consul General Chris O'Connor. "We are proud that British artistry and ingenuity continue to shape global filmmaking, dazzle and inspire audiences, and support an industry that brings in over a billion pounds of investment to our shores each year. Most of all, we are proud of our world-class nominees and the extraordinary achievements of the Oscar-nominated films made in the UK."
2014 was a record breaking year for UK film production, generating £1.2 billion of inward investment from the US into the UK, a 40% increase on the previous year. Good news for the UK film industry which directly employs 44,000 people in the UK.
The UK ilm industry took home eight Oscars wins Sunday night, including Best Actor (Eddie Redmayne, "The Theory of Everything") and Best Actress (Julianne Moore, "Still Alice").
Published 24 February 2015