World news story
The future hails: British innovation to make life easier for Osaka's taxi users
British developed taxi-finding smartphone app makes its Asia launch in Osaka.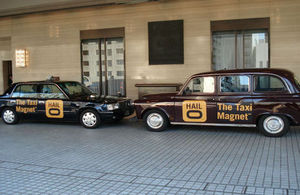 As part of UK Trade & Investment Japan's mission to promote the best of British technology and innovation in Japan, the British Consulate-General recently supported a launch event at the Osaka Innovation Hub, where the British smartphone application 'Hailo' was launched to the Japan market, marking its debut in Asia.
Hailo is a free smartphone application which allows users to find and get a licensed taxi in two taps on their smartphones instead of waiting to flag one down on the street. Using GPS technology, the driver will come to pick you up and drive you straight to where you want to go, without any need to know the local language, making the service attractive for the increasing number of British and overseas visitors expected to travel to Osaka.
A British venture company, Hailo Network launched its business in Osaka on 19 September. The Hailo taxi application is one example of innovative British technology that is finding an audience around the world and is already used by over 700,000 users in 12 major cities globally.
Speaking at the launch event in Osaka, Consul-General Simon Fisher said:
I am very pleased to see that a British venture originated in London has chosen Osaka to be the first location to start their business in Japan. I am convinced this innovation brings a Win-Win-Win relation to customers, drivers and taxi companies, and will have a big impact in Osaka.
Related Links
Published 11 October 2013