News story
The Foreign Secretary has spoken about the terrorist attack in Algeria
The Foreign Secretary William Hague has spoken about the terrorist attack in Algeria in a series of media interviews.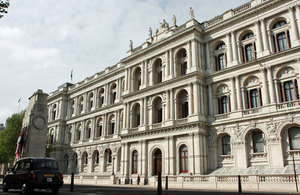 Speaking to media on Wednesday evening the Foreign Secretary William Hague commented on the ongoing terrorist incident at a gas installation near the Algerian border with Libya involving British nationals.
He said:
Early yesterday Algerian time, early, early today UK time, the incident took place in the eastern part of Algeria, a terrorist attack on an oil compound with oil workers. A number of people are held hostage there. This does include a number of British nationals and this is therefore an extremely dangerous situation and we're in close touch with the Algerian Government.
The Algerian military have deployed to the area and the Prime Minister has spoken to the Prime Minister of Algeria. We are liaising very closely at all levels with the Algerian Government. I've just spoken to our ambassador in Algeria and sent a rapid deployment team from the Foreign Office in order to reinforce our embassy and consulate staff there.
We will give more details as it becomes possible to do so, but obviously it is a very dangerous situation and we can not give out details very lightly. So we will keep people informed. We're working closely with BP whose staff are involved and I've just spoken to the senior management of BP. We're making sure between us, BP are doing a good job of this, that the families, that the loved ones of those who may be caught up in this are kept informed and kept up to date with any information that we're able to give them.
The Government's crisis mechanism, COBR, has met and been chaired by the Prime Minister and it will continue to meet. So the safety of those involved and their co-workers is our absolute priority and we will work around the clock to resolve this crisis.
Speaking later the Foreign Secretary added:
Excuses being used by terrorists and murderers who are involved, there is no excuse for such behaviour, whatever excuse they may claim. It is absolutely unacceptable of course. It is in this case the cold blooded murder of people going about their business. So there is no excuse whether it be connected to Libya, Mali or anywhere else.
Further Information
Foreign Office statement on Algerian terrorist incident
Foreign Office travel advice for Algeria
Published 17 January 2013