The Forced Marriage Unit in action
The work of the Forced Marriage Unit is highlighted in a one-hour documentary to be shown at 11pm on 8 March.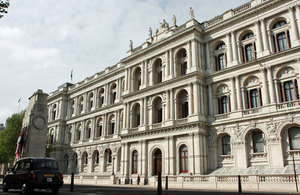 The documentary follows the work of the Forced Marriage Unit in London and abroad in Bangladesh and Pakistan at the busiest time of year - the summer school holidays. It shows new and existing cases as they unfold - including a series of rescues.
The film also follows the lives of the victims of forced marriage, those that have escaped and those involved in helping them begin new lives with new identities.
Viewers can see the documentary on Current TV (Sky 183, Virgin Media 155).
The Forced Marriage Unit - a joint initiative of the Foreign & Commonwealth Office and the Home Office - received over 1,700 calls in 2010. Forced marriage mainly affects young women: some cases involved girls as young as 13. But 15% of cases involve male victims.
The Foreign Office has advice for victims of forced marriage, and guidance for professionals working with people at risk of being forced into marriage
Published 8 March 2011