The final countdown: It's all to play for in the Whitehall Energy Showdown
With the Department of Work and Pensions leading the pack and the Department for Business Innovation and Skills hot on their heels, climate …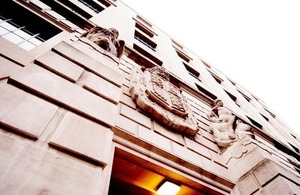 With the Department of Work and Pensions leading the pack and the Department for Business Innovation and Skills hot on their heels, climate change minister Greg Barker today called for all departments to make a final push during the Cross-Whitehall Energy Efficiency competition which ends on 1 November.
Climate Change Minister Greg Barker said: "The aim of the competition is to get departments to take immediate action to reduce their emissions over one month and this been a great success. I am particularly impressed with the Department of Work and Pensions cutting energy use by a barnstorming 13% so far. But this is only the beginning and everyone needs to keep up the pace if we are to reduce emissions on the government estate by 10%.
"Government cannot ask people to reduce their emissions without cutting our own emissions, people can now see for themselves that we are doing just that. But I want to go further and start building the low carbon office of the future right here in DECC. That is why DECC and three other departments are working with the Technology Strategy Board to trial several ground breaking technologies on our estate."
The Energy Efficient Whitehall programme will see the Technology Strategy Board and DECC jointly invest £2 million in the nine pilot projects, which including phase-change ceiling tiles, addressing local overheating in meeting rooms, LED lighting, and a natural cooling system.
Also this month DECC has joined household names like Manchester United and Boots as a holder of the Carbon Trust Standard. The award of the Standard certifies real emissions reduction efforts and recognises the DECC's commitment to cutting carbon on its own estate over the last two years.
Whitehall Energy Efficiency competition league table as of 25 october 2010
Rank Department Percentage (reduction)/Increase
1 DWP -13%
2 BIS -6%
3 FCO -5%
4 DECC -4%
5 No.10 -3%
6 MoJ -2%
7 DEFRA -2%
8 HMT -2%
9 HO -1%
10 DfT -1%
11 DfE -1%
12 MoD 0%
13 CO 1%
14 HMRC 5%
15 DfID 6%
16 CLG 7%
17 DCMS 10%
18 DH 10%
Notes for editors
The Whitehall Energy efficiency competition was launched by the Prime Minister on 1 October and challenges departments to reduce their energy use as much as possible over a month. You can find the full league table which updates daily on the data.gov website: (http://data.gov.uk/content/real-time-energy-data-government-headquarters)
DECC is providing £1 million to co-fund The Technology Strategy Board "Energy Efficient Whitehall" competition. The competition aims to facilitate demonstrations of energy efficient technologies in four Whitehall buildings: 3 Whitehall Place (DECC), Eland House (CLG), 1 Victoria Street (BIS) and King Charles Street (FCO).
The Carbon Trust Standard was developed by the Carbon Trust in 2007/08 to encourage good practice in carbon measurement, management and reduction by businesses and public sector organisations. It is designed to provide a robust, objective and consistent methodology for assessing corporate carbon performance. This was awarded to DECC this on 19 October.
Published 25 October 2010