The fight against human trafficking
Foreign Office Minister Hugo Swire and Home Office Minister Mark Harper will call for international cooperation to tackle human trafficking at an event at the Foreign Office this evening.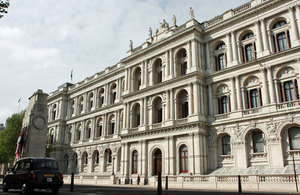 Foreign Office Minister Hugo Swire will pledge to ensure that UK embassies redouble their efforts to tackle Human Trafficking and work with other governments to improve prevention, prosecution of traffickers, and aftercare for victims.
Addressing diplomats, NGOs and parliamentarians at the Foreign Office today on Human Trafficking, he will speak alongside Home Office Minister Mark Harper, the Association of Chief Police Officers, the Salvation Army, and the National Society for the Prevention of Cruelty to Children (NSPCC).
Mr Swire will call for greater international cooperation to tackle Human Trafficking, saying:
"Human Trafficking is abhorrent; many of the victims are children who are subjected to horrifying ordeals. Governments have a moral duty to take action, and take action together.
"But this is not just about protecting the victims. Human Trafficking is the lifeblood of many organised criminal groups, and the $36 billion that it generates each year feeds terrorism and the trade in drugs and arms.
"We cannot effectively tackle the problem in isolation. It is a transnational crime, and it requires a transnational response. We are working internationally on prevention through education and alleviating poverty. We are strengthening our borders to catch gangs and rescue victims. We also want to see greater protection for those victims, allowing them to return home and receive the support and aftercare they need."
Home Office Minister Mark Harper will say:
"Human Trafficking is an atrocious crime that requires a strong and robust response, both from within the UK and internationally.
"The Government will continue to identify what further we can do to stop people from becoming victims in the first place and, if they do, how we can best support them to recover and recuperate from their terrible ordeal.
"Our aim is to build on our collective efforts with international partners so far to continue to support victims and to identify and punish the perpetrators."
Below is an infographic outlining the main countries of origin for potential victims trafficked into the UK. Click on the image for larger view.
Published 24 October 2012