News story
Foreign Office launches recruitment campaign at top universities
Diplomats seeking the UK's best and brightest visit 28 universities in a fortnight.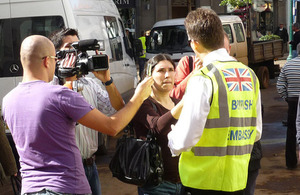 Diplomats from the Foreign and Commonwealth Office will visit 28 universities across England, Scotland, and Wales in the next two weeks in a campaign to recruit the best and brightest to apply to the diplomatic service's Graduate Fast Stream program, which seeks to attract high-performing graduates from diverse backgrounds.
More than 50 diplomats of diverse backgrounds and work experiences are fanning out across Britain to explain what life is like in the diplomatic service, and to answer questions from students. Students will have the opportunity to hear about a range of career paths and experiences from the speakers, who vary from junior officers to Ambassadors.
Hugh Elliott, Director of Engagement and Communications at the Foreign Office, said:
The Foreign Office has a huge amount to offer talented graduates. Our work is exciting and challenging. We offer a career with a difference, giving a unique chance to make a positive difference to this country and internationally.

Over the summer, Foreign office staff helped Britons caught up in the aftermath of the attack on the Westgate Mall in Nairobi; we supported the people of Gibraltar and we helped British business to secure contracts all over the world.

We are looking to our staff to represent modern Britain and bring a variety of experience to an organisation which is full of opportunities.
Representatives from the Foreign and Commonwealth Office will be visiting the following universities:
October 7
Glasgow University
Liverpool University
Manchester University
October 8
Edinburgh Napier University
Aston University
University of Birmingham
October 9
University of Leeds
University of Bradford
University of Gloucestershire
University of Bristol
October 10
University of Sheffield Hallam
University of Nottingham
University of the West of England
October 11
University of Coventry
Cardiff University
October 14
University of Oxford
University of Northampton
October 15
University of Hertfordshire
University of Cambridge
October 16
University of Southampton
University of Surrey
October 17
University of Westminster
London School of Economics
University College London
Royal Holloway University of London
October 18
School of Oriental and African Studies, University of London
Queen Mary University of London
King's College London
Further information
Case studies: read Angela's account (PDF, 230KB, 2 pages) of working as the Political and Press Officer at the British Embassy in Beirut and Nikesh's account (PDF, 294KB, 4 pages) of working on foreign policy and security at the British High Commission in Malaysia.
To find out more about the Roadshow follow us on Twitter @FCOCareers or follow #FCOrecruitment
To find out more about the Civil Service Graduate Fast Stream
Find out more about working for the FCO
Follow the Foreign Office on twitter @foreignoffice
Follow the Foreign Office on facebook and Google+
Published 18 September 2013
Last updated 7 October 2013
+ show all updates
Added additional info
First published.