World news story
The End of the Chevening Year!
2016 Chevening Scholar, Kinna Marrast-Victor from Grenada, blogs about her experience at the prestigious Queen Mary University.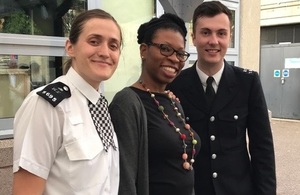 The end of my Chevening year is far from the end! I began my Chevening journey with great excitement and pride, having received the most prestigious scholarship to study at Queen Mary, one of the top universities in the UK.
Chevening gives you the perfect opportunity to immerse yourself in all things British and all that is in the UK. Not only does Chevening organise excellent trips for students but just being in the UK allows you to visit the world without leaving the UK. I took in the grand pageantry of the Lord Mayor's Show in London which drew me in so deep I barely noticed the rain falling on me; the Christmas market and street shows around Leicester Square had me like 'a kid in a candy shop,' and the food to taste from all over the world is just amazing!
My best advice to you is VOLUNTEER!!! Some of my best memories are with the Metropolitan Police Volunteer Cadet Corp with whom I spent time each week and a weekend camp sleeping in a tent! My regret: Not joining them on all the other camps and activities they had. I've made lifelong friends who plan to visit me in Grenada. You would find, that you would take away much more than you ever give.
My next bit of advice is to check out HostUK. I did and what a great weekend I had with a wonderful couple who showed me a whole other side of England!
If you are a 2017/2018 scholar, congratulations!!! If you are not, do apply!! You have nothing to lose and everything to gain.
The Masters degree is 'in the bag!' but much more than that, the bag is filled with experiences I'll forever treasure. To mix, mingle and connect with people from every corner of the world, to see them replicate the things we do in the Caribbean (but with a different label), and now in August, as I get on board the flight back to Grenada, to call them friends! I am returning home excited and reenergised to play my part in making Grenada the best it can be and the Caribbean integration, the reality it must be!
Published 15 August 2017