The economy of the Maghreb
Minister for the Middle East and North Africa Alistair Burt writes ahead of his attendance at a conference on the economy of the Maghreb.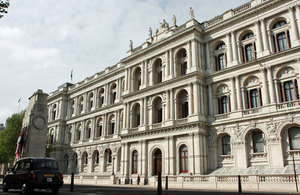 "We live in an increasingly networked and interconnected world. Technological change continues to break down barriers between peoples, making it easier to travel, to communicate, to trade. The pace of this change means that old divisions no longer hold: We can no longer ignore developments in other parts of the world. What happens in one country can and often does have a material impact on somewhere thousands of miles away, for good or for bad.
This changing world presents huge opportunities. But in order to make the most of these, we need to work harder to learn about different countries and cultures, and to share experiences. This is an essential part of my job as UK Minister for the Middle East and North Africa. I travel to countries in the region in order to listen to people and to build productive relationships on shared priorities. I did this last week, when in Algeria and Morocco. I have done just the same in my visits to Tunisia and Libya, and look forward to doing so when I visit Mauritania later this year.
The Maghreb matters to the UK. Your region is on the doorstep not just of Africa, but of Europe. Its security and stability is central to our own. We want to build stronger ties with the region, economically, politically and culturally. This involves listening, just as much as it involves sharing our own experiences of economic integration and co-operation.
I am therefore delighted that the UK is hosting a conference this week that brings together Ministers and senior officials from the five States of the Maghreb region, as well as senior international figures, economic experts and business representatives. The event - "The Economy of the Maghreb - A Motor for Regional Prosperity and Integration" - takes place against a backdrop of significant change across the wider Middle East and North Africa region.
While the events of 2011 did not directly affect all five Maghreb States, the Arab Spring highlighted that people are demanding a greater voice, more freedom, more responsibility and more dignity. Similar forces are evident in countries all across the globe, and it is absolutely clear that countries have to tackle reforms and changes in their own way and according to their own traditions. We all need the political space to find our own approach, and so too will Algeria, Libya, Mauritania, Morocco and Tunisia in pursuit of economic integration.
However, history suggests that in addition to developing diverse and strong economies within individual states, greater economic integration and co-operation seems a necessary condition for success in today's world. . For example, the South East Asian bloc, ASEAN, has built a prosperous and peaceful community of States in an historically-troubled region. Economic co-operation between neighbours can lead to significantly greater opportunities, and serve to reap the benefits of globalisation.
I hope that the forthcoming conference will allow for a free and frank exchange between those participants who have experience of living and working in more established, open economies and those whose governments are considering economic reform. I see it as an opportunity to share ideas and experiences, to support the laying of the foundation for economic success across the Maghreb, to help create the conditions for stability and prosperity for the people of the region.
I look forward to hearing the views of my friends in the Maghreb on how they see the potential for economic integration. The United Kingdom will be continually supportive, as a close bilateral partner, as you build a strong and prosperous region. We are a firm friend."
Published 11 July 2012