"The economic compass of British business should be pointing firmly East" says UK Foreign Secretary
Foreign Secretary William Hague visited Hong Kong on 17 January 2011. It was his first visit to Hong Kong since taking up his appointment in May 2010.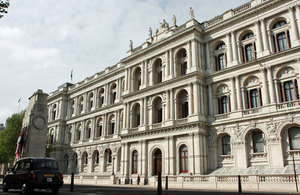 During his visit, the Foreign Secretary called on Hong Kong SAR Chief Executive Donald Tsang. He also met members of the business community, legislators and students from the University of Hong Kong.
In his keynote speech to the Asian Financial Forum, the Foreign Secretary said:
"Hong Kong's economy is on a roll. It continues to be a highly attractive place to do business. As one of the world's leading global financial centres and host to 70 of the world's largest banks alone, it is a shining example of Asian success and the opportunities this region has to offer."
Foreign Secretary's visit to Hong Kong
Published 17 January 2011