World news story
The Duke of Cambridge visited Dusseldorf, Germany
The Duke attended a presentation of the Fahnenband to the British 20th Armoured Infantry Brigade and a gala to mark the 70th anniversary of North Rhine-Westphalia.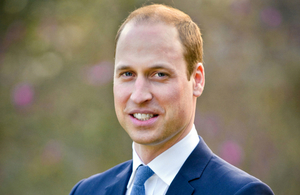 The Duke of Cambridge, at the request of Her Majesty's Government, visited Dusseldorf on Tuesday 23 August to attend a series of events honouring the role of British Forces Germany (BFG), and celebrating the 70th anniversary of the state of North Rhine-Westphalia (NRW). During the visit, His Royal Highness saw a BFG military parade with NRW Minister President Hannelore Kraft, met BFG personnel at a reception, and attended a 70th anniversary gala alongside Chancellor Angela Merkel.
NRW was established on 23 August 1946 by the British Military Government, following the end of the Second World War. For almost 70 years, a large British military presence has remained in the region – known as British Forces Germany – playing a vital role during the Cold War and in the reconstruction of its area of occupation. The strong links between NRW and Britain remain today, with approximately 27,000 British citizens living in the state, and 345 British firms basing their companies there, including BP and Vodafone.
The events of the 23 August in Dusseldorf celebrated both the historic and current ties between NRW and Britain. To commemorate Britain's military contribution, The Duke saw NRW Minister President Hannelore Kraft present the Fahnenband, the Federal state's highest military honour, to the 20th Armoured Infantry Brigade, in acknowledgement of their service to the defence of Germany. Following the parade, His Royal Highness attended a reception in Dusseldorf's NRW Forum, where he met members of the Brigade and their families.
In the evening, the state hosted a 70th anniversary gala in the city's Tonhalle, with musical performances and short films celebrating the history of the NRW state. The Duke, alongside Chancellor Angela Merkel and NRW Minister President Kraft, delivered a speech during the ceremony. Prior to the start of the anniversary gala, His Royal Highness briefly met the Chancellor.
Images for free use, copyright of all photos for attribution (unless otherwise stated) belongs to Buddy Bartelsen / impress picture.
Published 9 August 2016
Last updated 24 August 2016
+ show all updates
Link to the speech by The Duke of Cambridge added
Now with Press Kit
First published.