News story
The Department for Education responds to concerns about the cost of school lunches
Response to reports over the weekend about school food costs.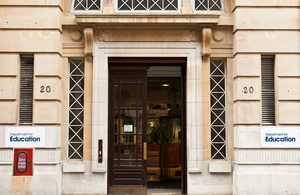 Commenting on reports the cost of school lunches will rise now funding is now longer ringfenced a Department for Education spokesman said:
We make no apologies for giving heads complete freedom over every aspect of their budgets - they know what's best for their pupils, not ministers. We have protected overall funding for schools in cash terms over the next four years, with the Pupil Premium on top targeting investment at students who need the most support.
There's been a lasting culture change in school catering over the last few years. Heads know that investing in good, nutritious food is not a false economy - it makes pupils healthier, improves their behaviour and results.
The tough nutrition standards remain in place and we see no reason that quality will fall away. The School Food Trust will continue to give support to heads to raise take up - particularly among the poorest children eligible for free school meals.
Background
13 December 2010: Michael Gove's Written Ministerial Statement on education funding allocations - makes clear that all previous ringfenced grants are now in one, single funding pot.
DfE enquiries
Central newsdesk 020 7783 8300
General enquiries 0370 000 2288
Published 4 April 2011