World news story
The delegation of British Museum has arrived to Tajikistan today
The team of two British experts St. John Simpson and Zeina Klink-Hoppe from British Museum has arrived to Tajikistan today.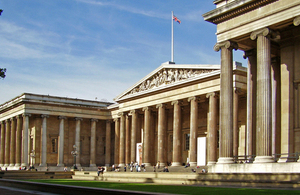 The British Museum representatives will spend more than a week, visiting and exploring historical and archeological locations as well as learn the ethnography of Tajikistan. They will be accompanied by the representatives of the National Museum of Tajikistan, Her Majesty's Ambassador Mr. Robin Ord-Smith and representatives from the UNESCO Commission under the Ministry of Foreign Affairs of the Republic of Tajikistan.
In the framework of their programme the delegation of Tajik and London Museum will visit the Tajik National Museum, Museum of Ethnography, Antiquity, Gurminj Museum of Musical Instruments, Mausoleum and Museum of Said Ali Hamadoni and travel to site of Takhti Sangin, the temple of Ajina teppa, settlement of Hulbuk in Khatlon district and ancient settlement of "Sarazm" in Panjakent district.
The aim of this visit is to establish good relationship and future cooperation between the British Museum of the United Kingdom and the National Museum of the Republic of Tajikistan. And to look for opportunities in training the Tajik Museum experts and specialists in relevant areas. Also, the sides will consider possibilities of creating new replicates of Oxus treasure and identify ethnography exhibits to display in the British Museum.
Notes:
The British Museum (BM) was the first national public museum in the world. Its permanent collection, over 8 million works, is amongst the largest and most comprehensive in existence and originates from every continent, illustrating and documenting the story of human culture from its beginnings to the present.
Published 18 September 2014