News story
The Crown Commercial Service is a winner at the GO Awards 2016
The Crown Commercial Service (CCS) is celebrating after its Facilities Management (FM) Team won 'Procurement Team of the Year' at the National Government Opportunities (GO) Excellence in Public Procurement Awards.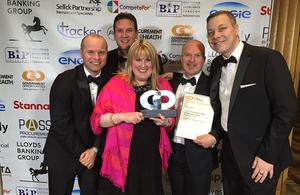 Held on 8 March, the awards recognise excellence within procurement and the benefits to the wider business and social community. The FM team was triumphant against a strong field of contenders from the public, private and third sectors.
CCS's FM team provides a managed procurement service for a number of central government departments, as well as bespoke procurement services across the wider public sector. Its clients come from a range of sectors - including education, health and police – and over the past year the team has worked with departments to standardise their FM requirements. A core focus has been on improving pre-market engagement to find solutions at an earlier stage that meets customer and supplier needs. This includes developing a new approach to contracting models, which removes much of the bureaucracy involved with bidding for government business - which is of a particular benefit to small business.
To date, the team's innovative approach has achieved savings of up to 23% for departments through better buying, aggregation of requirements and standardisation of specifications. This is expected to lead to savings in excess of £500 million over the life of the FM agreement – a substantial increase on the initially anticipated £200 million saving.
Sally Collier, Chief Executive of Crown Commercial Service, said:
"Facilities management is an ever important issue and it's great to receive this award because it recognises the hard work that the team has put in to understand the needs of our customers at an early stage. The award is also a recognition of how by maximising the crown's purchasing power, we're able to secure common goods and services at a price that is delivering significant savings."
Find out more about the GO Awards and see the full list of winners.
Published 9 March 2016