The Commonwealth and civil society – a vital partnership
Commonwealth Minister Lord Howell met representatives of civil society groups to hear their views ahead of the Heads of Government meeting in Perth.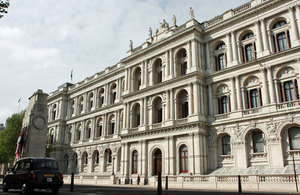 At the meeting, hosted by the Royal Commonwealth Society on 29 September, Lord Howell outlined the UK's vision for a reinvigorated and strengthened Commonwealth, and spoke about the importance of civil society networks and their contribution to foreign policy.
Lord Howell emphasised the vital role civil society organisations will play in the future of the Commonwealth, adding that the opportunity for civil society to raise issues directly with leaders and feed recommendations into intergovernmental discussions is an important part of what makes the Commonwealth unique. He took questions from the audience on a range of subjects of keen interest to civil society within the Commonwealth family, including LGBT rights, forced marriage, women's health, Sri Lanka, Zimbabwe and South Sudan.
He welcomed the "vast linkages taking place at every level of civil society .. in Commonwealth countries" and added that it was these networks - professional, academic and cultural - that set the Commonwealth apart.
"I am very proud to be Minister for the Commonwealth. Commonwealth networks are one of the really significant patterns for which there is a colossal need in the world."
Lord Howell welcomed the focus of the Eminent Persons' Group (EPG) on democracy, development, gender equality and youth, and underlined the fact that prosperity and values are intimately connected, which is why the UK strongly supports the recommendations of the EPG on these issues. Commonwealth leaders will consider the EPG's recommendations at the Commonwealth Heads of Government Meeting (CHOGM) in Perth on 28 - 30 October.
Lord Howell will meet participants from the Commonwealth People's Forum and Commonwealth Youth Forum during CHOGM.
Published 17 October 2011