World news story
The challenges of communicating climate change: visit by James Painter
This was published under the 2010 to 2015 Conservative and Liberal Democrat coalition government
From 1 to 5 July, James Painter visited Quito and Galapagos to give workshops and conferences on how to effectively communicate climate change.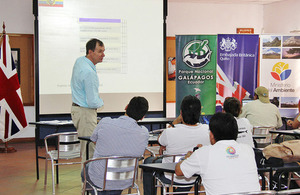 This joint initiative between the British Embassy in Quito and the Ecuadorean Ministry of Environment provides people who produce information related to environmental issues and climate change with tools to better disseminate their findings and have a greater impact among the media and the general public.
Since 2009, James Painter has visited the country regularly to give workshops to journalists so that they can better communicate climate change and environmental issues. After a visit to Ecuador by Lord Nicholas Stern, former Chief Economist of the World Bank and author of the famous 'Stern Review on the Economics of Climate Change', the information published by journalists who had participated in the workshops was seen as proof of the positive impact of this long-term initiative.
During his current visit, James carried out workshops in Puerto Ayora (Galapagos) and Quito for scientists, representatives of NGOs, public sector spokespersons, and others in charge of communicating the different aspects of climate change. He also held conferences for the general public in both cities. In these conference James stressed the importance of tailoring the messages for different target audiences and appealing to values instead of using only rational arguments when communicating environmental issues, particularly on climate change.
He also talked on ways to present climate change to the general public so to engage them in a more effective way. This project also has the support of the Galápagos National Park, WWF, Fundación Futuro Latinoamericano (FFLA/CDKN), FUNDAR Galápagos/European Union and Conservation International.
Check our flickr gallery of the visit.