News story
The CEDAW Committee's Observations and Recommendations published
Following the UK examination the Committee has published its Concluding Observations outlining their recommendations for the UK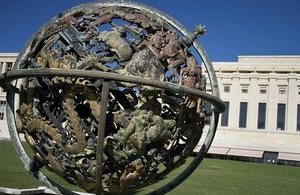 On 17 July, at a full day hearing at the United Nations headquarters in Geneva, the UK Government was examined on its implementation of the UN Convention on the Elimination of all forms of Discrimination Against Women (CEDAW).
During the examination, the UN CEDAW Committee, a body composed of 23 independent experts on women's issues from around the world, focused on the UK's progress in implementing the Convention and the recommendations that were made by the Committee in 2008.
The government responded to nearly one hundred questions on how it was tackling a diverse range of issues that affect women, including gender stereotyping and prejudice; prostitution; female representation in political and public life; nationality and asylum; education; employment; health; benefits; law and family life and violence against women and girls.
In preparation for the examination the Committee had invited non-government organisations (NGOs) and women's groups from across the UK to send in reports highlighting the topics on which they thought Committee should scrutinise the government. Over 20 reports were received by the Committee and many of the issues raised in the reports were reflected in the Committee's questions.
Following the examination, the Committee published its Concluding Observations on the UN website outlining their recommendations for the UK to undertake in order to advance its compliance under the convention. These recommendations covered a wide range of issues, including women's access to justice; sex education in schools; the impact of austerity measures on women; equality in the labour market and engagement with NGOs.
Find out more
Published 30 August 2013