World news story
The British Museum and the Google Cultural Institute bring ancient Maya culture to life
People from around the world will have access to premium virtual tours to Guatemala's most emblematic Mayan sites thanks to an unprecedented alliance between institutions from the UK, Guatemala and Google Arts.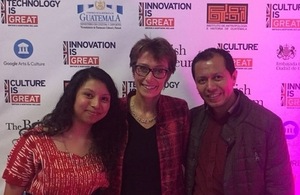 Today sees the launch in Guatemala of the British Museum's collaboration with Google Arts and Culture to digitise and disseminate the Ancient Maya collection of Alfred Maudslay. This important collection is made up of photographs, casts and other scientific documents created during archaeological research at Maya sites in the 19th century.
All of this was possible thanks to the support of the Government of Guatemala, which allowed permits and collaborated with the collection of essential data to make this project a reality. A launch of this initiative took place in London on 29 November.
Through a new dedicated page on Google Arts and Culture, special content focused on Maya sites in Guatemala has been created, with a series of online exhibits introducing the project, its activities and the British Museum's Maya collections more broadly. Alongside these, new immersive Google Street View tours are available, transporting people to Guatemala - using Google Cardboard - to visit Quiriguá and Tikal.
The British Museum will also collaborate with Guatemala's National Museum of Archaeology and Ethnology by leaving from 7 to 11 December a special digital kit which will allow visitors to engage in the virtual tours. Street View capture of the entire publicly accessible area of these sites is also available as part of the collaboration.
The objects that have been digitised were created and collected by Alfred Maudslay, a technological pioneer who used the captured image to engage a global public in Maya cultural heritage. He travelled extensively in Central America in the 1880s and 90s, often becoming the first visitor to scientifically document now famous Ancient Maya sites like Tikal and Quiriguá using up-to-date recording techniques.
The launch was attended by Maximiliano Araujo, Guatemalan Vice Minister of Culture; Carolyn Davidson, British Ambassador to Guatemala; Jago Cooper, Curator: Africa Oceania and the Americas at the British Museum; Daniel Aquino, Director of the National Museum of Archaeology and Ethnology; and Tatiana Marquez, Manager of Communications for Central America at Google.
Carolyn Davidson, British Ambassador to Guatemala, said:
I'm delighted to announce this cultural collaboration between the UK and Guatemala that will enhance the greatest heritage of the Mayans. The British Museum was the first national public museum in the world. Its permanent collection, over 8 million works, is amongst the largest and most comprehensive in existence and originates from every continent. I'm sure Guatemala's presence in this project will boost the interest in this beautiful country around the world.
Jago Cooper, Curator: Africa Oceania and the Americas at the British Museum said:
The Maudslay photographs and casts, transported back across the Atlantic, brought with them a new understanding of a society which had created some of the greatest cities in the world. They demonstrated how successful the ancient Maya had been by creating a unique approach to urbanism, food production, water management and governance. By collaborating with Google the British Museum is continuing Maudslay's legacy of technological innovation, digitising collections, making new discoveries and bringing exciting narratives to a global audience.
Published 8 December 2017