World news story
The British High Commission marks Human Rights Day
British High Commissioner to Nigeria, Paul Arkwright writes on the importance of Human Rights.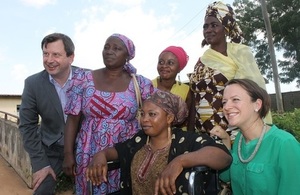 Hi, I'm Paul Arkwright, British High Commissioner to Nigeria
The 10th of December every year is Human Rights Day. It's a day that reminds us of the need for equality for everyone regardless of race, ethnicity, gender, sexuality or social status. For the UK the importance of Human Rights can't be over estimated. Part of UK work overseas, including Nigeria is to promote fundamental Human Rights for all. This is not about pushing UK standards, but playing a part in upholding global agreed values.
I'd like to use the opportunity this day provides to address an issue that affects us all; that of Nigeria's vulnerable population living with disabilities.
Estimates suggest that 20% of Nigeria's total population are living with disabilities. There is a largely negative attitude and strong stigma towards them. Many people with disabilities have no voice, choice or control over their lives and they are often the poorest in their community. Like most other people with disabilities across the world, they have poorer health outcomes, lower education, less economic participation and higher rates of poverty.
This is because people with disabilities face multiple barriers that stop them from realising their rights and living with dignity and in accessing services that many of us have long taken for granted.
This is something that should worry us all.
Nigeria's constitution enshrines the principle of non-discrimination in recognition of the contribution to society all people make. I appeal to the relevant authorities to implement the UN Convention on the Rights of Persons with Disabilities and its optional protocol by ensuring the passage of the Nigerian Disability Bill into law. The Act will provide for the establishment of a National Commission for Persons with Disabilities which will serve as the platform for the implementation and enforcement of all provisions of the Disability Act.
On our part we will continue to work with the Nigerian Government, NGOs and civil society to promote human rights for all including those living with disabilities. Already, the UK Department for International Development has a number of programmes designed to address some of the exclusion people with disabilities have to deal with. I am committed to doing more. Are you?
Published 10 December 2015