World news story
The British Embassy opens photographic exhibition on UXO
This was published under the 2010 to 2015 Conservative and Liberal Democrat coalition government
British photographer Tessa Bunney shared her view on Unexploded Ordnance (UXO) clearance in Xieng Khouang province.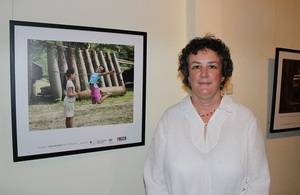 The British Ambassador Philip Malone and Simon Rea, Programme Officer at MAG yesterday launched an exhibition by British photographer Tessa Bunney at Monument Books Vientiane on the female faces behind UXO clearance in Xieng Khouang province.
At a private event hosted by Monument Books, the topic of UXO clearance was highlighted through photographs and film shot by Tessa Bunney during a week spent with MAG's all-female UXO clearance team, UCT6.
In his opening speech, Ambassador Philip Malone stressed the importance of Tessa Bunney's and MAG's work:
MAG has been doing fantastic work in Laos for a number of years, supported by the UK government. Tessa's photographs bring a new angle to the issue of UXO, showing a very personal take on the lives of the women employed to clear these dangerous remnants of conflict, and also the opportunity this kind of work has given them. I was also pleased to be present at the showing of Tessa's work to the women of UCT6 during my recent visit to Xieng Khouang province, and to see MAG's work in action.
Tessa, a resident of the Lao PDR, has succeeded in bringing the issue of UXO contamination in Laos to an international audience through her work. The UK's Financial Times magazine featured her work earlier this year, leading to a significant increase in donations to MAG to support UXO clearance.
MAG has been working in Laos for almost 20 years and with UK government funding since 2008. With UK funding they have to date cleared over 6 million square metres of land, destroying 21,938 pieces of UXO and directly benefiting almost 350,000 people.
The exhibition entitled The Women of UCT6 will be open to the public until 30 September, opening times being Mon-Sat 9am to 8pm and Sun 9am to 6pm.
Document information
Published: 20 September 2013