World news story
The British Embassy marks 'Remembrance Day'
British Embassy Beirut honours fallen soldiers alongside Lebanese and Palestinian war veterans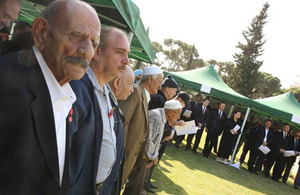 The British Embassy Beirut held 'Remembrance Day' services in the Commonwealth cemeteries in Beirut, Saida and Tripoli in honour of the soldiers who were killed during World Wars I and II and in other conflicts.
The service in Beirut was attended by British Ambassador to Lebanon Tom Fletcher, British Defence Attache Lt. Col. James Cushner, Brig.-Gen. Omar Ibrahim representing Lebanese Army Commander, Col. Labib Ashkouti representing the Director General of Sureté Générale and Brig.-Gen. Fadi Salman, representing the Acting Director General of the Internal Security Forces. Ambassadors, diplomats and military attachés of European and Commonwealth countries were also present.
A number of Lebanese and Palestinian war veterans, who served with the British army in World War II, attended with their families. At the end of the service Ochinka Dinga from the charity Dar Al Awlad laid the wreath on the memorial.
The Beirut War Cemetery is the final resting place of around 1,200 people, most of whom were from the UK, Australia, New Zealander, India and South Africa. The war graves are supervised by the Commonwealth Graves Commission.
Published 11 November 2013