World news story
The British Embassy Kyiv call for project proposals under Bilateral Programme in 2015
Funding opportunities for projects in the areas of upcoming local elections, protection of human rights and government transparency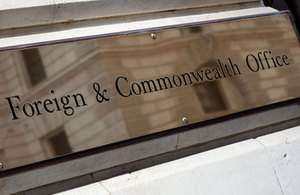 The British Embassy Kyiv is looking for proposals for project work in Ukraine to be completed by end March 2016. Successful projects will be funded by the FCO's Bilateral Programme Budget. The deadline for submitting proposals is 6pm (Kyiv time) on 15 July 2015.
Programme
The Bilateral Programme aims to support projects in the following areas:
Support to fair local elections in Ukraine
establishing and strengthening platforms for dialogue between local communities and candidates, with particular focus on the Donbas and the south of Ukraine (Odesa, Kherson and Mykolayiv regions)
working on enforcing legislation on local elections, in particular on developing training and guidelines for judges and prosecutors
raising awareness of internally displaced people (IDPs) about their voting rights and how to register in local elections
Protection of human rights
monitoring the human rights situation in Crimea
supporting the LGBT community and helping to entrench equal rights in Ukraine in this area
protecting rights and freedoms of people with disabilities, engaging with the public, government and business, enhancing national legislation in this area
protecting rights of minority groups in Ukraine
Support to the Open Government Partnership (OGP)
This includes support for Ukraine in implementation of the OGP Action Plan for 2014-2015, with a focus on:
fostering civil society institutions' activities, promoting their participation in the processes of development and implementation of public policy
ensuring access to public information
preventing and combating corruption
improving quality of administrative and social services
implementing e-government tools and developing e-democracy
Our priority is on strengthening civil society organisations but we also welcome working with official government bodies where there is a strong case.
Successful projects should have sustainable outcomes and should clearly identify the change that will be brought about, they can also build on projects by other organisations, complementing their efforts.
Projects should have a budget of up to £10,000. Co-funding and own contributions will be a merit. Our funding is for this financial year only (projects must be completed and all payments made by 31 March 2016).
Administrative costs (office rent, project management and book-keeper rates, utilities, communications, stationery, bank charges etc) must not exceed 8% of the total project budget.
We are unable to fund academic courses or research, English language courses, the purchase of IT or other equipment.
Bidding process
Bidders should fill in the standard Project Proposal Form (MS Word Document, 123KB) and include a breakdown of project costs in the Activity Based Budget Form (MS Excel Spreadsheet, 20KB) .
We will not consider proposals submitted in other formats.
Successful bids must demonstrate strong strategic relevance to the areas of programme focus and have a clear focus on delivering change and sustainability.
Proposals should be sent to Kyiv.Projects@fco.gov.uk by 6pm (Kyiv time) on 15 July 2015.
Please note that emails from ukr.net accounts cannot be delivered to the above email.
We will evaluate proposals by the end of July. Approved projects will commence from 1 August.
Evaluation criteria
Proposals will be evaluated against the following criteria:
fit to programme objectives – the extent to which the proposal addresses the issues
quality of project – how well defined and relevant the outcome is and how outputs will deliver this change
value for money – the value of the expected project outcomes, the level of funding requested and institutional contribution
previous experience of the project team – evidence of the project team's understanding the issue and of its regional activities, ability to manage and deliver a successful project, through work done to date in the area or in related fields
bids that contribute to the Embassy's public diplomacy efforts are especially welcome
Notes
The British Embassy Kyiv reserves the right to carry out due diligence of potential grantees, including seeking references as part of the selection process.
Bidding is competitive and only selected projects will receive funding. The Embassy reserves the right to accept or reject any or all bids without incurring any obligation to inform the affected applicant(s) of the grounds of such acceptance or rejection. Due to the volume of bids expected we will not be able to provide feedback on unsuccessful bids.
Published 22 June 2015