World news story
The British Embassy in Tashkent hosts screening of "Thin Ice"
In partnership with the University of World Economy and Diplomacy (UWED) the film 'Thin Ice - the Inside Story of Climate Science' was screened on 23 May.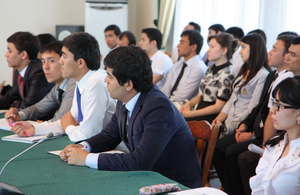 Thin Ice is a unique film about climate science produced in 2013 in the UK. Geologist Simon Lamb travels across the globe, visiting the polar plateau in Antarctica and experiencing storms on the Southern Ocean, and following leading scientists to the ends of the earth as they explain why they think humans are changing the planet's climate through greenhouse gas emissions.
Climate science has come under sustained attack in recent years, so Simon Lamb took his camera to find out what is really going on. For over three years he followed scientists from a wide range of disciplines to create an intimate portrait of the global community of researchers racing to understand the planet's changing climate. The resulting film – Thin Ice - provides a compelling case for rising levels of carbon dioxide as the main cause of the world's changing climate and is the culmination of Simon Lamb's years of research.
HM Ambassador H.E. Mr George Edgar in his speech at the screening said:
It is a privilege to screen this exciting and informative film at one of Tashkent's leading universities, in front of an audience of Uzbekistan's future leaders. Uzbekistan - like all countries in the world - is exposed to the effects of climate change. Climate change is going to significantly increase the frequency of events such as droughts and floods in addition to putting strain on water resources and agriculture.
Students from various faculties of the university attended the film screening and following the film screening there was a question and answer session. The students were keen to find out more about international cooperation in emission reduction commitments and protection of the environment.
Published 23 May 2013