World news story
The British Embassy in Lima donates London 2012 memorabilia to Lima's Olympic Museum
Ambassador James Dauris visited the Olympic Museum in Lima to celebrate the first year of the London 2012 Olympic and Paralympic Games.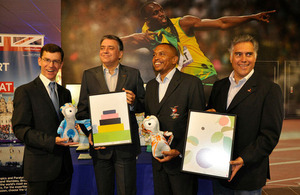 On 13 September the Olympic sports museum in Lima received a visit from Ambassador James Dauris to commemorate the first anniversary of the London 2012 Olympic and Paralympic Games. The Ambassador received a warm welcome from the President of the Peruvian Institute of Sports (IPD) Francisco Boza, José Quiñones, President of the Peruvian Olympic Committee and the museum's team.
They were taken on a complete tour of the recently inaugurated museum which covers the history of the Olympic Games and Peru's participation. They were able to enjoy a collection of historic footage of the games and impressive sports memorabilia, including one of the petals which formed part of the London 2012 Olympic Cauldron. At the end of the tour, the Ambassador presented Mr. Quiñones with a series of commemorative articles from the London 2012 Olympic and Paralympic games, such as framed artworks, flags, DVDs, pins and the 2012 Olympic and Paralympic mascots, Wenlock and Mendeville, which will form part of the museum's collection The event ended with a tour of the grounds of the National Stadium which houses the museum, which was built on ground donated by the British Community in Lima in 1897.
Published 20 September 2013