World news story
The British Embassy Helsinki celebrates Her Majesty the Queen's official birthday
Leading figures of Finnish-British relations toasted the Queen in beautiful Helsinki weather.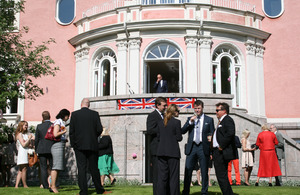 The British Embassy in Helsinki celebrated the official birthday of Her Majesty the Queen at a garden party on 30 May, when nearly 400 guests including figures from politics, commerce, NGOs and sport joined the British Ambassador and the Lord Mayor of the City of London, Alderman Roger Gifford.
As guests enjoyed a traditional garden party glass of Pimms, or had a cup of tea, Ambassador Matthew Lodge offered guests some highlights in Anglo-Finnish relations over the last year, including sporting success for Finland's paralympians at London 2012, music and design, all fields in which Finns and Britons lead the world.
This year's garden party coincided with the visit to Helsinki by the Lord Mayor of the City of London, Alderman Roger Gifford, who highlighted the many business and educational opportunities London and the UK offers to Finland, noting that the UK is already the most popular destination for Finnish university students studying abroad, with nearly 40% choosing the UK.
Showcasing Britain's Automotive Excellence: guest arriving at the Ambassador's Residence were greeted with a display of iconic British automotive engineering from yesteryear and today. Thanks to the Mini Owners' Club of Finland, we had two original, mint condition 1960s Austin Mini cars. And Inchcape Finland used the occasion to show off the brand new Jaguar coupe. Best of all was the absence of "traditional" British weather, as guests enjoyed the beautiful sunshine of a Finnish spring.
Published 3 June 2013