News story
The Bastion Memorial, by Major Tom McDermott RTR
Major Tom McDermott RTR tells us his Bastion Memorial story.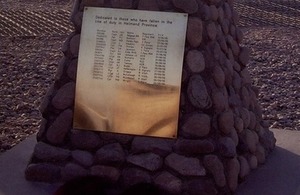 On Wednesday 14 January 2009, I was about as far away from Afghanistan as I could possibly be. I was in an Austrian ski resort, having fun, taking a small group of soldiers from my Regiment to the Army Telemark Ski Championships. It was relaxed soldiering at its best. We were a small team, enjoying a great sport, in a fantastic social atmosphere with a lot of laughs. At around 0600hrs I was fast asleep in my bed.
Three thousand miles away one of my best friends was enduring combat soldiering at it's hardest. He was sat on the roof of a mud compound, somewhere outside the 'Green Zone', the secure area of the Upper Gereshk Valley, Afghanistan. The temperature was similar to Austria, but a grim and freezing drizzle had significantly reduced visibility and numbed all senses.
As sporadic small arms fire zipped around, suddenly and with no warning, there was a blinding flash and the sharp crack of detonation.
In that moment two fantastic British soldiers, one of them my next-door neighbour at the Royal Military Academy Sandhurst army officer training centre and one of my closest friends, lost their lives. Captain Tom Sawyer, Royal Artillery, and Corporal Danny Winter, Royal Marines, joined the list of British casualties in Helmand. Tom, described in his epitaph as a 'dynamo of good humour and fun', had been married just eight months.
Two months later I found myself in Camp Bastion, reading Tom's name on a small but perfectly constructed memorial outside the Camp Head Quarters (HQ). One of the rotating Engineer Regiments built the initial memorial. It was made from mortar and stone and stood at just three feet high. A gleaming brass plaque adorned each side, polished daily by the HQ staff, and at the top was a beautiful cross (fittingly constructed from brass gun shells).
Soldiers rotating through 2009-2013, some on their third or fourth combat tour found themselves needing a focal point for reflection. The memorial provided this focus. I often found myself stood in front of it, reading the names, trying to make sense of what it was like to be a soldier in war.
The memorial had evolved and by the time I left Afghanistan for the last time in June 2014, tens of thousands of soldiers had stood in front of it. Hot dust blowing in their faces, listening to the haunting notes of The Last Post at vigils. To me it was the heart of Bastion, a vital and visible reminder of over a decade of fighting in Afghanistan.
This Thursday, on 11 June 2015, the heart of Bastion will be brought to a new home, the National Memorial Arboretum in Staffordshire. To me there could not be anything more proper. For those who have not had a chance to visit, the Arboretum is in itself a bastion of reflection, a place of carefully orchestrated peace and tranquillity.
To those of us who fought in Afghanistan, and for the families of those who died, the addition of the Bastion Memorial in Staffordshire will provide something very simple. It is a place to continue to remember those we have lost in a long and dangerous campaign. The heart of Bastion is now in the heart of the country, and I have no doubt that it will help ensure that we never forget.
Major Tom McDermott RTR
Published 10 June 2015