World news story
The Ball 2014 visited Uruguay ahead of the World Cup
Spirit of Football Foundation brought "One ball, One World"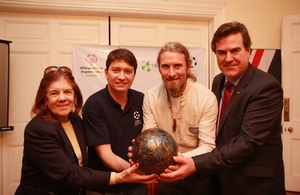 Ambassador Ben Lyster-Binns hosted an event as The Ball 2014 came to Uruguay, brought by the Spirit of Football Foundation and Special Olympics, under the slogan "One Ball, One World."
The Spirit of Football, a UK non-profit organization, takes The Ball from England in a tour around the world ahead of every World Cup to send a message of peace and unity without distinction of race, religion or intellectual ability.
The fourth epic journey began with a new ball made in Brazil, called "The Ball 2014", on January 9, 2014 -exactly 150 years after the first FA match took place at Battersea Park in London.
During its stay in Uruguay, Ambassador Ben Lyster-Binns offered a reception at the British Residence. Members of the Spirit of Football, Sports Vice-Minister Antonio Carámbula and athletes of the Special Olympics Uruguay attended, and all of them signed The Ball.
The Ball was also part of an event held at the Army General Command, with the participation of Sports Minister Liliam Kechichián and Ambassador Lyster-Binns. In its tour around the world, The Ball has been signed by major sports personalities, Special Olympics athletes, businessmen, senators and presidents.
Published 12 June 2014