The Arab Spring and the UK's role
Minister for the Middle East and North Africa Alistair Burt addressed Arab leaders and community leaders at an event in London held in association with the International Arab Charity.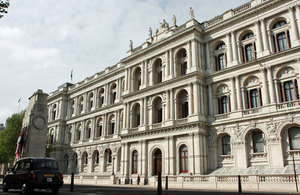 He highlighted progress and new challenges in Tunisia, Egypt and Libya. He also raised his concerns about the ongoing violence in Syria and talked about the Middle East Peace Process and Iran's nuclear programme.
"Reform has to be led by the countries themselves. These are Arab revolutions. It is not for us to dictate their pace or their nature. How they develop will not be driven by Western agendas. It is about the people themselves setting out a path to achieveing the universal rights and freedoms they long for. There's not one form of democracy that fits all. Every country is different and has the right to develop its own political model."
He explained that the UK has committed £110m over four years to work in partnership with countries across the region. The Arab Partnership programme has already approved 48 projects in 9 countries worth £6.5m and they are already delivering positive outcomes.
Watch the full speech:
Published 17 November 2011