World news story
The Ambassador Patrick Mullee inaugurates Solar Energy Project in the Quilotoa Community
The Ambassador Patrick Mullee visited the community of Quilotoa, in the Cotopaxi province, where he inaugurated a solar energy project.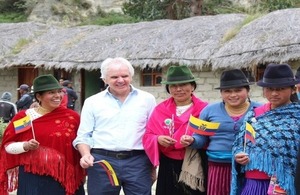 The project is an initiative of the Association of Alumni from the United Kingdom in Ecuador – British Alumni Ecuador – of which one of its members, Gabriel Castellanos, led the project in the initial research, installation and execution stages. This initiative was able to advance thanks to the support of the British Embassy, and constitutes a number of benefits including avoiding the use of diesel and other contaminating fossil fuels in this ecological reserve, as well as traditional electrical systems which affect the landscape and natural beauty of the place.
The solar panels were installed in the Community Hostel Princesa Toa 2, located on the shores of the crater's lagoon. The system provides clean and renewable energy to the hostel, which will enable the community to develop its activities in an efficient way, saving costs and providing a better service to tourists who visit the area.
The president of the community, Manuel Latacunga, and its residents were present during the inauguration. Members from the local media community attended, as well as Maria Veronica Cepeda, Environment Director of the Province of Cotopaxi, on behalf of the Ministry of Environment. The British Embassy Quito is committed to collaborating with projects that contribute to a positive change in the use of renewable energy, and congratulates the British Alumni Ecuador for its valuable input in the conception and proposal of this innovative project for the Sierra Centro region of the country.
Look here for pictures of the event
Resumen Técnico del Proyecto Quilotoa - British Alumni Ecuador (PDF, 330KB, 2 pages)
Get the latest news in our Twitter account and follow the British Ambassador Patrick Mullee or check out our Facebook page.
Published 13 March 2015