World news story
TeXchange 2015: Fintech competition announced
Selected Israeli Fintech companies to travel to the UK for targeted business meetings with some of the world's biggest companies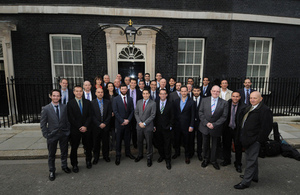 The UK Israel Tech Hub launched TeXchange 2015 today, giving Israeli Fintech startups a unique opportunity to break into global markets through Europe's biggest financial centre.
TeXchange – the UK Israel Tech Exchange Programme – is an annual flagship programme of the Hub, a team based at the British Embassy in Israel tasked with promoting technology partnerships between British and Israeli companies. Each year, up to 15 innovative Israeli start-ups are carefully selected by a judging panel and travel to the UK for a series of targeted business meetings, networking events and presentations with some of the world's biggest companies, brands and business leaders, as well as government officials.
The 2015 TeXchange theme will be Financial Technologies (Fintech), an area where both countries have a cutting edge: The UK is Europe's biggest financial services centre; Israel, the "Start-Up Nation", is home to well over 200 fintech start-ups that offer innovative solutions for this industry.
Based on the successful outcomes of previous years, the Hub expects TeXchange 2015 to result in more UK-Israel business partnerships, accelerating economic growth for both countries. The past two TeXchange programmes have led to diverse business negotiations and partnerships between British and Israeli companies, for example a partnership between major British online retailer Shop Direct and Israeli company Cimagine.
"We believe the time is right to connect brightest minds in the Israeli fintech scene with the big players of the global financial industry based in London", said Avi Cohen, Digital Manager of the UK Israel Tech Hub. "The industry is facing tremendous challenges and opportunities from cyber security and anti-fraud to mobile banking platforms, payment solutions and big data analytics – and UK-Israel collaboration can play a big role in meeting these challenges".
Avi Rabinovich, Co-founder and CEO of Mabaya and a participant in last year's programme, added: "TeXchange created an invaluable opportunity for us to showcase our offering to key market players and potential customers".
The deadline for applicants is 11 January 2015, with finalists announced shortly after. The delegation is scheduled to travel to London in mid-February.
Published 19 December 2014