Terrier promoted at Edinburgh Castle
Blue the terrier dog and official mascot of the One O'Clock Gun and Time Ball Association (OCGTA) was promoted to Bombardier (Corporal) at a prize-giving event at Edinburgh Castle last week.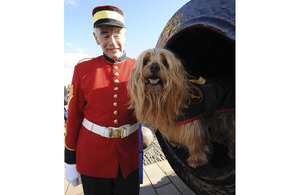 To coincide with World Animal Day the OCGTA organised a children's painting competition about Greyfriars Bobby, the famous terrier who was so devoted to his master John Gray that, even in death, he lay on his master's grave for 14 years, only leaving for food.
Blue was promoted by Lieutenant Colonel Chris Huthwaite, Commanding Officer of 105 Regiment Royal Artillery (Volunteers), which has its headquarters in Edinburgh. He also presented the prizes to the winners of the competition.
Lt Col Huthwaite commented:
It was a genuine pleasure to have been invited to present the prizes to the schoolchildren who have worked so very hard.
The regiment has a long, traditional and strong relationship with the OCGTA, with our operational L118 Light Gun, 'The One O'Clock Gun', being fired daily [excluding Sundays] by Sergeant Jamie Shannon, 'Shannon-the-Cannon', a non-commissioned officer from my regiment.
I also promoted Blue to Bombardier. He was due a pay rise!
The prize-giving ceremony took place at the castle's One O'Clock Gun exhibition.
Published 12 October 2010