Press release
Tenants now able to start taking up the right to own their own home in South Norfolk
Housing Association tenants in South Norfolk can now begin the process for owning their home and making use of the extended Right to Buy.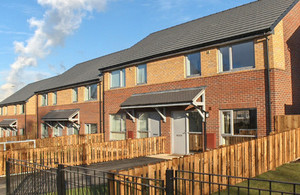 Saffron Housing Trust is one of 5 associations leading the way by running a pilot that will help tenants in a number of areas around the county to own their own home.
An agreement was recently reached with the National Housing Federation which will give 1.3 million tenants the chance to purchase their home at Right to Buy level discounts once the Housing and Planning Bill comes into force.
Eligible tenants Saffron Housing Trust tenants have already begun the registration process that will put them on the path to homeownership.
Anyone who works hard and wants to own their own home should have the opportunity to do so and this pilot will open the door to ownership for many tenants in South Norfolk.
Housing Minister Brandon Lewis who met with Saffron Housing Trust today (4 December 2015) said:
Thousands of housing association tenants have shown interest in taking up the extended Right to Buy and this pilot is great news for helping many people in South Norfolk achieve the dream of owning their own home.

This one nation government is determined to make the dream of buying a home a reality for tenants so as many people as possible can enjoy the security and stability that comes from owning a home.
The minister met with Saffron Housing to discuss first hand the benefits that Right to Buy brings to tenants. The pilot is one of many measures announced at the Spending Review which will help more people into home ownership and boost housebuilding.
The government is doubling the housing budget from 2018 to 2019 to provide 400,000 new homes, the biggest affordable housebuilding programme by a government since the 1970s. This will include 200,000 Starter Homes, 135,000 new Help to Buy Shared Ownership homes and 10,000 Rent to Buy homes.
The pilot will inform the design and implementation of the main Voluntary Right to Buy scheme for housing association tenants.
The minister also visited Chequers Meadow, a new housing development in Hainford which consists of 4 Saffron Housing properties available to rent, along with 4 shared equity properties and 6 private sale homes.
Tenants interested can register now and submit applications from January 2016.
Office address and general enquiries
2 Marsham Street
London
SW1P 4DF
Contact form http://forms.communiti...
General enquiries: please use this number if you are a member of the public 030 3444 0000
Published 4 December 2015