Tenant Cashback set to reward house proud council tenants
Housing Minister Grant Shapps today offered tenants a Cashback deal worth billions to take control of their own homes. Launching Tenant Cashback…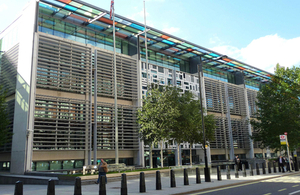 Housing Minister Grant Shapps today offered tenants a Cashback deal worth billions to take control of their own homes.
Launching Tenant Cashback, Mr Shapps said there are millions of social housing tenants who take great pride in looking after their homes - and that he thinks "it's about time we make it worthwhile for many more tenants to show this kind of responsibility".
Social housing landlords responsible for England's more than 4 million social homes spend an average of £1000 per property annually on repairs - maintenance that tenants could, very often, do themselves, saving landlords money in the process.
Tenant Cashback will allow residents to take more control of their repairs budgets for their homes, for example carry out their own DIY, or commission it locally and pocket any savings made. Cash they could use however they want - for example, towards a deposit on their own house.
With maintenance and repair costing £4billion a year, the move could see a bonanza for small businesses - local painters, plumbers or carpenters - as more of the money is spent locally.
Community groups will also be able to take on the repairs on a particular street or neighbourhood, helping out those who cannot take on the responsibility themselves. Tenants will be able to pool their resources, creating a 'Community Cashback' account which could be used to fund improvements to the local area for the benefit of all residents.
The Government wants all landlords to offer their tenants the chance to manage more of their repairs budgets - and will consult on bringing forward changes to regulations to give all tenants the option to request it from their landlord.
But no tenant will be obliged to take on any more responsibility than they choose and the scheme won't place any new cap on maintenance budgets.
Greater involvement of tenants can only be a good thing for landlords too - who look to benefit from cutting out routine tasks that cost them a lot in administrative time and money. Good landlords also see the benefits from encouraging more tenants to stand on their own two feet, and to work closely with their neighbours and wider community.
Housing Minister Grant Shapps said:
Social housing should act as a springboard to help people make better lives for themselves. When residents take pride in their homes it saves their landlords cash, so I think it's right that tenants should benefit too.

Tenant Cashback will do just that, giving house-proud residents more control over looking after their own homes. Doing your own DIY or choosing a local handyman to do the work - will allow tenants to pocket any savings they make.

And if house proud tenants drive down the total cost of maintenance then this could lead to tenants receiving cheques in the post worth thousands of pounds, for them to use however they wish.
Notes to editors
Mark Henderson, Chief Executive, Home Group - one of the country's largest social landlords, managing 52,000 homes, said:
We believe this scheme offers a real chance for customers to take responsibility for the upkeep of their homes and neighbourhoods, while making savings and potentially gaining practical and transferable employment skills. It is certainly a proposal that could radically change the way organisations like ours operate and rewarding customers for taking on aspects of maintenance is an idea which we have for some time agreed merits exploration. For this reason, we are happy to pilot the scheme and help assess what benefits it could deliver for our customers.
Sue Chalkley, Chief Executive of Hastoe Housing Association - a landlord of over 4000 properties, commented:
This initiative fits well with our strategy to find new ways of providing value for money and, with our combination of a young resident profile, low turnover and local community strategies; we are expecting the pilot to be a success. I am sure there are residents who will welcome this opportunity to work with us to keep their homes in good repair.
Green Vale Homes, who manage 3700 homes, said:
Green Vale Homes, alongside our partner organisations within the Together Housing Group, welcome the opportunity to develop the tenant cash back idea.

This initiative builds on the work we already undertake with tenants to improve skills, provide training and develop employment opportunities.

Our Reward Empowerment and Participation scheme, now in its second year, has proved a success with tenants collecting points for participating in a range of events or meetings for cash reward.

We will be working with our tenants to develop the new scheme further and encourage them to undertake certain repairs within their own homes and communities and to develop skills that may lead to employment.

We believe that this scheme has the potential to benefit tenants, their families and to make a difference to their community.
Cllr Clyde Loakes Vice Chairman of the Local Government Association's Housing and Environment Board said:
The vast majority of people living in council homes are responsible and sensible tenants, and landlords are glad to let them take proper responsibility for the upkeep of their homes. It is right that the approach should be piloted so risks can be identified and responded to.

Like any other landlord, local authorities need to be able to ensure that maintenance work on their properties continues to be done safely and to a high standard. So landlords need to be able to ensure work affecting gas, electric and fire safety is done properly.

This is vital to making sure this scheme achieves its aim of rewarding tenants and driving down costs without inadvertently exposing councils to a tidal wave of law suits and hefty repair bills for rectifying DIY disasters.
Twitter
Keep up to date with the Department by following us on Twitter (external link).
Media enquiries
Visit our newsroom contacts page for media enquiry contact details.
Published 7 April 2011