Press release
Tell Us Once: Bereavement support expanded and red tape cut
Support to families facing bereavement will be expanded as a new service joins Tell Us Once.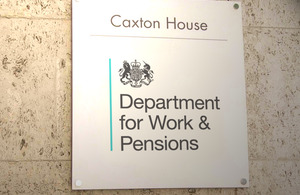 Tell Us Once allows citizens to inform authorities of a birth or bereavement just once – rather than contacting a series of different branches of government. It now covers:
local authorities
DVLA
HMRC
HM Passport Office
DWP
This month, the service was expanded to include concessionary travel so now 32 central and government services are covered – and the red tape that families face at the time of a bereavement is further reduced.
The service is now offered by 89% of local authorities in UK – and is available to around 54 million people.
The 1 millionth customer is expected to be helped later this year.
Work and Pensions Minister Steve Webb said:
Tell Us Once is helping people in often the most difficult times of their lives.

The vast majority of people find the service useful and it shows how the government can work together to benefit the citizen, as well as being better value for the taxpayer.

The vast majority of the country is now covered by Tell Us Once and I call on the final local authorities to come on board.
Every year around 1 million people experience a birth or bereavement, and when they do, they need to notify government. This is often when they feel least able to cope with dealing with red tape.
Currently there are over 10 million concessionary travel passes in England and Wales and approximately 80% of older people have one.
Using Tell Us Once will enable bereaved families to notify the appropriate services more quickly that the pass is no longer required.
More information
Citizens can access the bereavement service through 3 channels:
on-line
telephone
face-to-face appointment
A customer survey took place in the summer of 2013 to accurately measure the customer experience of those undertaking the service:
98% of people felt that their overall experience of the bereavement service was good

98% were willing to recommend the service to others suffering a bereavement
The Tell Us Once service currently notifies 32 central and government services including HMRC Tax Credits and Child Benefit and others, such as, return of passports, Blue Badges and notifying benefits and services such as Council Tax.
The first 10 areas to offer concessionary travel as a part of Tell Us Once are:
Caerphilly
Devon County Council
Hartlepool Borough Council
Norfolk County Council
Stockton-on-Tees Borough Council
Torbay
Warwickshire County Council
Redcar and Cleveland Borough Council
Middlesbrough Council
Darlington Borough Council
Older and disabled people holding a statutory concessionary travel pass are allowed to travel for free on local bus services anywhere in England, and Wales respectively (subject to certain time restrictions).
Some local authorities also offer discretionary concessions in addition to the statutory scheme, such as free or reduced travel on other modes of transport.
Media enquiries for this press release – 0203 267 5123
Press Office
Caxton House
Tothill Street
London
SW1H 9NA
London Press Office (national media and London area enquiries only – not questions about personal claims) 020 3267 5144
Out-of-hours (journalists only) 076 59 108 883
England and Wales (local media enquiries) 029 20 586 then 097 or 098 or 099
Scotland (local media enquiries) 0131 310 1122
Follow DWP on:
Published 30 May 2014