News story
Tees Valley joins the unstoppable momentum of Northern Powerhouse
Devolution deal signed with the Shadow Tees Valley Combined Authority.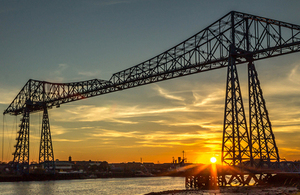 Chancellor George Osborne hailed the 'unstoppable momentum' in the drive to strike devolution deals with cities and regions, as Tees Valley today (23 October 2015) became the latest area to make a historic agreement with the government to take on new powers.
The agreement delivers another significant boost to the Northern Powerhouse as the Chancellor and Northern Powerhouse Minister James Wharton signed a deal with the Shadow Tees Valley Combined Authority.
Voters will choose a directly elected Mayor in 2017, who will take on a raft of new powers as part of plans to take power out of Whitehall and hand it back to local people.
The deal presents a significant financial boost for Tees Valley who will receive £15 million a year over the next 30 years with a new Investment Fund being set up thanks to a guaranteed £450 million from the government. Local leaders will have the potential to grow the fund with investments over this period.
The new Mayor for the region will oversee a range of powers devolved from government and the Chancellor announced recently that Mayors will also have the power, if they have the support of the local business community, to raise business rates to help fund new infrastructure, enabling them to build for their city's future.
The Tees Valley deal provides for the transfer of significant powers for employment and skills, transport, planning and investment from central government to the region. It enables the Combined Authority to create its Investment Fund, through the 30 year initial allocation of funding for capital financing of at least £15 million a year and it will in addition have access to the Local Growth Fund and will benefit from new Enterprise Zones, subject to the current bidding round.
Today's announcement, alongside a similar deal also being announced in the North East, brings the number of city regions across the north signing up to game-changing mayoral devolution deals to four, with Greater Manchester and Sheffield also creating powerful new metro Mayors.
The deal requires support from each of the local councils within the region, as was the case with previous deals to Sheffield and Greater Manchester.
Devolution deals underline the government's commitment building a Northern Powerhouse to help rebalance the economy and ending the old model of running everything out of London.
Chancellor George Osborne said:
Teesside leaders have today joined the unstoppable momentum of devolution and once again they show that the Northern Powerhouse is leading the way. Today's deal is brilliant news for Tees Valley and means that civic leaders here will take control of their own affairs in a way that would have been unthinkable even just a few years ago.

Rebalancing our economy and giving local leaders the power to manage their own affairs is a key part of our long term plan and I want to thank the leaders across Tees Valley for their hard work in reaching this historic agreement.
Northern Powerhouse Minister James Wharton said:
Today's Tees Valley deal marks yet another example of Teesside leading the way. It means local people will have a direct say over the support available to boost jobs and skills, and to encourage new businesses to start, grow and prosper.

We have listened to local people and are devolving significant resources and powers from the banks of the Thames back home to where they belong on the banks of the Tees. As a proud Teessider, I very much look forward to seeing how we use this deal to make our ambitions a reality.
Chair of the Shadow Combined Authority and Leader of Redcar and Cleveland Borough Council Sue Jeffrey said:
I'm pleased that the government has put a devolution deal on the table and if it is agreed by all the Tees Valley councils, there is no doubt it will enable us to do more locally to strengthen our economy and secure a more sustainable future for the Tees Valley. Over the coming months we will be speaking to local residents and businesses about what the proposals mean for them. But we must not lose sight of the fact that while this is good news, there is still an immediate need to focus on actions to help the shock to our borough and our people which has been caused by the current crisis at SSI.
Further information
A new, directly elected Mayor of Tees Valley will act as Chair to the Tees Valley Combined Authority and will exercise the following functions devolved to that Authority:
responsibility devolved from government for a consolidated transport budget, with a multi-year settlement to be agreed at the Spending Review
creation of new Mayoral Development Corporations and leadership of a land commission to examine what publicly owned land and other key strategic sites should be vested in the development corporation.
The Tees Valley Combined Authority, working with the Mayor, will exercise the following powers devolved to it:
to create a Tees Valley Investment Fund, bringing together funding for devolved powers and used to deliver a 30 year programme of transformational investment in the region
control of a new £15 million a year funding allocation over 30 years, to be included in the Tees Valley Investment Fund and invested to boost growth
leadership of the comprehensive review and redesign of the education, skills and employment support system in Tees Valley
responsibility for a devolved approach to business support from 2017, to be developed in partnership with government.
Furthermore, the deal states that additional powers may be agreed over time and included in future legislation.
Image by Stephen Tierney on Flickr used under creative commons.
Published 23 October 2015