Teenager rescued off Mevagissey after asking for help on Facebook
An 18-year-old man has been rescued after his dinghy capsized off Mevagissey.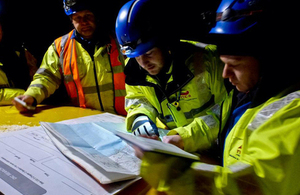 Brixham Coastguard was contacted just before 11pm last night by police who'd taken a call from the teenager's mum. She said he had posted on Facebook saying he was in trouble on his Laser sailing dinghy.
Mevagissey and St. Austell Coastguard Rescue Teams, the Fowey RNLI all-weather and inshore lifeboats, police and the ambulance service were sent to the area.
The man was spotted in the water by the inshore lifeboat approximately ½ mile south east of Black Head. He was pulled on board the lifeboat and taken back to Fowey. He was then transferred to Treliske hospital to be checked over.
Andy Huber, Watch Manager at Brixham Coastguard, said:
This young man was extremely lucky to be found when he was. He told rescuers that his mobile phone had got wet and he couldn't make a 999 call to the Coastguard. However, he did manage to post something on Facebook. He also told lifeboat crews he had been in the water for 2 hours and was trying to swim back to shore, even though he did not have a buoyancy aid or lifejacket on.

We always recommend that if you're heading out on the water that you are well equipped with the necessary communications and safety equipment. Carry a VHF radio with you, a charged mobile phone in a waterproof bag, distress flares and an emergency beacon. These will all help you alert the Coastguard if you're in trouble, and a much more reliable way than posting for help on social media.
Press office
Outside these hours, please dial the press enquiries number for emergency press enquiries only. You will hear a message giving details of how to contact the on call press officer.
Published 11 July 2014