World news story
Ted Chung receives Honorary CBE
Hyundai Capital and Hyundai Card CEO receives Honorary award for services to UK-Korea relations.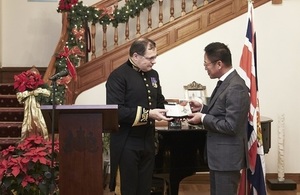 In recognition of his contributions to strengthening the relationship between the United Kingdom and the Republic of Korea, Mr Chung Taeyoung (Ted Chung) of Hyundai Capital and Hyundai Card was awarded an Honorary Commander of the Order of the British Empire (CBE) at the British Embassy, Seoul, on 9 December.
As Vice Chairman and CEO of Hyundai Capital and Hyundai Card, Ted Chung has established business in the U.K. and promoted the U.K. in Korea. In the UK, Hyundai Capital has invested in a London based joint venture with Santander Consumer Finance.
Ted Chung has embraced new ideas about style, art and music. Contemporary British artists, culture and creativity have been central to that. Ted Chung has brought some of the greats of British popular music to Korea, including most recently Sir Elton John and Sir Paul McCartney.
Ted Chung has also collaborated extensively with UK institutions at both home and abroad. In Korea he has been integral in promoting the UK through the British Rock Weekend, the Korea Rocks Tour, showing that the UK is home to some of the most creative talent in the world, and a great place to visit and do business.
Speaking at the event, British Ambassador Charles Hay said:
I am delighted to be able to award Ted Chung an Honorary CBE. Ted has been a great friend to the UK and has played a key role in strengthening the ties between our two countries.
Further information
The Order of the British Empire recognises valuable service to the United Kingdom. Other notable recipients of the CBE include former National Assembly Representative Dr Park Jin CBE and Chairman Shin Dong-bin CBE of Lotte Group.
Published 10 December 2015