News story
Technology update
An update on the performance of the Crown Commercial Service technology team.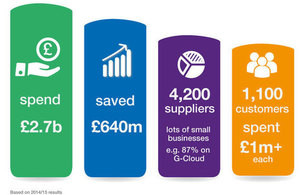 The Crown Commercial Service (CCS) technology team has come a long way since it was created in 2014 by combining the ICT and telecoms commercial teams of, what was then, the Government Procurement Service (now CCS), and the commercial team from the Public Services Network programme.
We're now responsible for around £2.7 billion of spend on common technology goods and services covering cloud and digital services, technology products and services, network services and software licensing.
Over the last year (2014/15) we have:
saved our customers (and ultimately taxpayers) £640 million against a 2009/10 baseline - a year-on-year increase of 70%
helped customers use our commercial solutions - over 1,100 of whom spent over £1 million
provided 4,200 technology suppliers, the majority of whom are small and medium businesses, with access to public sector business opportunities
saved over £85 million on software licensing costs
How we're transforming
We're committed to ensuring we meet the needs of our customers and suppliers, by improving our service and simplifying our processes. Extensive engagement with buyers and suppliers has been, and continues to be, at the heart of this.
By consistently focusing on user needs and business outcomes, we have:
made it easier for small and medium-sized businesses to win government business. For example, 87% of G-Cloud's suppliers and 31% of the suppliers on Network Services are small and medium businesses.
delivered a greater percentage of savings for the wider public sector (53% of our total)
replaced a large number of agreements with 8 simpler cross-government solutions. These typically offer buyers immediate cost savings for small orders, and larger savings for more complex or higher volume requirements
made it easier for suppliers and customers to develop new services. For example, by reducing the 'managed service' page count to just 12 pages on Digital Services 2 (down from 70 pages for the first iteration of Digital Services)
made sure government acts as an intelligent buyer. For example, the Technology Services agreement has been designed to help public sector organisations to break down services
supported the "Government as a Platform" (GaaP) agenda by ensuring that the Digital Services standard terms and conditions have appropriate Intellectual Property Rights and support the sharing and reuse of code
What's next?
We will continue to seek new ways to transform the commercial technology buying landscape and innovate to meet our users needs.
We'll also continue to work to, and evolve, our 7 service principles.
You can follow Sarah Hurrell, Commercial Director, Technology on Twitter: @hurrelluk
Published 26 October 2015