Technology solutions for gestational diabetes: apply for funding
Organisations can apply for funding of up to £60,000 for projects that help improve the health of pregnant women affected by diabetes.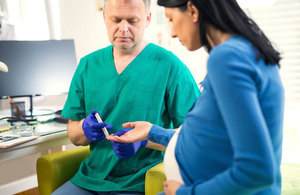 The Department of Health and Department for Economy in Northern Ireland are to invest in new technology solutions that improve the health of women with gestational diabetes.
Funding of up to £60,000 per project is available for the development of technologies that can:
enable diabetic pregnant women to take better control of their health
increase the effectiveness of interventions
reduce pressure on health care services, (maternity, neonatal and endocrinology services)
support an ongoing care programme
improve the lives, well-being and outcomes for maternal and infant health
enable women to lead as normal a life as possible
reduce the need for travel to specialist clinics
This is a Small Business Research Initiative (SBRI) competition. It's part of the GEMS project – 'gestational, type 1 and type 2 diabetes empowering mothers through mobile technologies'.
Competition information
this competition is open now
the application deadline is 3pm on 25 August 2017
SBRI is open to any type of organisation
successful projects will attract 100% funded development contracts
phase 1 contracts are worth up to £60,000 and last up to 6 months
if phase 1 testing is successful, organisations may be able to bid for phase 2 to develop and test their prototypes
Published 14 July 2017