Teachers and SEN support staff can apply to National Scholarship Fund
Information on the support available to special educational needs support staff to develop their subject knowledge and skills.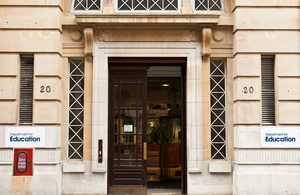 Teachers and special educational needs (SEN) support staff will be able to bid for funds from the scheme worth up to £2 million to deepen their subject knowledge and develop their skills.
For the third year running, teachers can bid for up to £3,500. For the second year, SEN staff can bid for up to £2,000.
The application window, which opens for 3 weeks from 8 April, will offer funding to teachers in the 4 priority subjects of English, mathematics, science and SEN.
Charlie Taylor, Chief Executive of the Teaching Agency, said the continuation of the scheme, which was introduced in 2011, proves how important it is to create a world-class teaching profession through continual professional development.
Charlie Taylor said:
Having a teaching profession that is committed to professional development is crucial to raising standards in our schools - as well as raising the status of teachers.

These scholarships identify talented professionals and help give them the opportunity to develop their specialist knowledge further, so that they can progress in their careers, and pass their knowledge on to their pupils.
The scheme also reflects the government's commitment to provide funding for teachers who educate children with special educational needs and disabilities.
Children and Families Minister Edward Timpson said:
We're overhauling provision for children with special educational needs, so that they get more comprehensive support. Teachers who take this opportunity to extend their skills will help give children with special educational needs the best possible start in life.
The outcome of the third round of scholarships will be announced in August.
Notes to editors
The outcome of the third round of scholarships will be announced on 22 August 2013. The awards will be made on the recommendation of an expert panel of eminent educationalists who will verify the assessment of applications.
Round 1 and 2 of the National Scholarship Fund for teachers is based on the following criteria:
priority subjects/specialisms: mathematics, English, science and SEN
support from school: teachers were required to demonstrate support from their school in terms of accessing resources and being able to carry out activities within and outside the school
level and type of scholarship activity: the majority of scholarships were awarded to teachers who were pursuing knowledge independently to master's level and beyond, but other highly valued continuing professional development activities were also included within the fund, such as subject specific seminars, where their benefit and impact could be demonstrated
To qualify for a scholarship SEN support staff have to:
work in an eligible school in England
spend at least 50% of their contracted time supporting pupils who have special educational needs and disabilities in learning based activities
have achieved qualifications equivalent to, at least, full level 3 or hold higher level teaching assistant status
DfE enquiries
Central newsdesk - for journalists 020 7783 8300
General enquiries - for members of the public 0370 000 2288
Published 19 February 2013