Press release
T.E. Lawrence's cottage given rare Grade II* listing
T.E. Lawrence's home in Dorset will be protected for generations to come.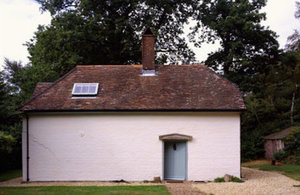 The only adult home of the iconic diplomat and writer T.E. Lawrence has been upgraded to a Grade II* listing today by Heritage Minister Tracey Crouch.
Lawrence was considered one of the most recognisable figures from the First World War, following his work in the Middle East and his involvement in the Arab Revolt.
The cottage, Clouds Hill, in Dorset served as Lawrence's retreat from barrack life where he would entertain his friends and wrote most of his famous books. Famous visitors included Lady Nancy Astor, Siegfried Sassoon and Augustus John.
Lawrence reconstructed the partly-derelict cottage during 1923-35 to his specifications and needs, preferring the simplicity of the small and unheated building. Since his death in 1935 the cottage has remained unaltered and preserved as he left it.
Heritage Minister Tracey Crouch said:
This wonderful house held a special place in T.E. Lawrence's heart and gives us a glimpse into the home life of one of the most iconic writers and influential diplomats of the 20th century. This extra protection will preserve the building and T.E. Lawrence's extraordinary legacy for years to come.
Deborah Williams, Listing Team Leader, West at Historic England, said:
Clouds Hill deserved to be upgraded to Grade II* in recognition of the importance of Lawrence's life and the particular place which the cottage held in his heart. In 1923 he rebuilt the once-derelict cottage dating from 1808, making the fittings and furnishings himself, so it is very evocative of his personality and interests.
Helen Mann, the General Manager for the National Trust which cares for Clouds Hill said:
We welcome the upgraded listing to Grade II* which acknowledges the significance of T E Lawrence and Clouds Hill. The tiny, isolated cottage, which re-opens for visitors on 8 March, offers a real insight into the reflective, private and complex character of Lawrence. The rooms and contents remain much as he left them and the cottage is full of atmosphere.
Published 15 December 2015