World news story
TCI aims for more renewable energy
The Turks and Caicos Islands is joining the "Ten Island Challenge" as part of its commitment to moving towards renewable energy sources.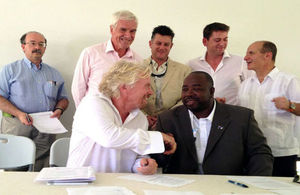 The Challenge is an initiative of the Carbon War Room, an organisation founded by top global business leader Sir Richard Branson. It aims to support Government's long term plans to make the switch to renewables: Aruba and St Lucia are already fully committed to it.
The announcement was made at a conference arranged by Sir Richard Branson, attended by multiple regional heads of state, world leading technology suppliers, researchers and financial facilitators, where five other Caribbean countries also committed to specific projects in partnership with the Carbon War Room which emerged from the work undertaken during the summit.
These other countries are Aruba; which aims to be fossil fuel free by 2020 and is already at 50% after only five years, with a resultant $80M annual reduction in energy cost, St Lucia, St Kitts, The British Virgin Islands and San Andres Province, Colombia.
The Turks and Caicos Islands' (TCI) commitment was made by Governor Peter Beckingham and the Minister for Government Support Services, George Lightbourne. The first specific project which the Carbon War Room will advise on is the new development at West Caicos, for which work at the 24 square kilometre site is about to commence.
Commenting on the announcement Governor Beckingham said:
I am under no illusions that converting some of TCI's current 100 per cent dependency on fossil fuel will be challenging, but we must work closely with the utility Fortis to see how we and they can build on their initial plans for solar and wind power.
Minister Lightbourne said:
Many of the 100 professionals at the conference expressed surprise at TCI's high energy costs, and were in no doubt we could introduce measures to bring prices down for the benefit of all. I am determined that we should see the introduction of alternative energy generation and believe this initiative will have a positive impact across the entire social spectrum and reduce operational overhead for the public and private sector alike, by reducing the burden of spiralling energy costs, and living our "Beautiful By Nature mission".
Jonathan O'Dea, senior representative of Kew Capital, said:
West Caicos has the potential for solar, wind, ocean thermal energy conversion (OTEC) and other Green technologies. We are pleased to be TCI and the Carbon War Room's first project in carbon impact reduction, and see the proof of renewable energy as a commercially sound and financially viable business model.
Climate change represents the greatest challenge we have ever faced, and the greatest wealth-generating opportunity we have encountered. Today, using existing, proven technologies we can reduce almost half of all carbon emissions in profitable ways, creating jobs and new investment opportunities along the way. The stone age did not end because we ran out of stones, something better came along. That very same position is mirrored today with the availability of clean, efficient and cheaper energy from sustainable resources which exist in abundance in the Caribbean.
Published 7 February 2014