Tax & trade: UK backs fair business practice for Africa
Britain has pledged to help African countries secure vital tax payments from international trade and business – money which could be invested in public services such as health and education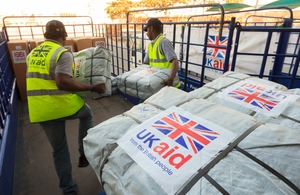 In a visit to east Africa this week, the Deputy Prime Minister Nick Clegg and Development Minister Lynne Featherstone will meet with African Union leaders alongside local and UK companies doing business in the region.
They will meet President Armando Guebuza in Mozambique and Prime Minister Hailemariam Desalegn in Ethiopia - as well as key business leaders - to help make sure that the wealth created by the two countries is not lost through unfair tax practices, a lack of transparency or a failure to secure the benefits of trade.
The visit comes ahead of the G8 meetings in June. As president country of the talks, Britain will focus global leaders on the issues of tax, trade and transparency.
Deputy Prime Minister Nick Clegg said:
Many of the difficulties that governments face in the developing world are becoming increasingly common in the developed world. For too long, the developed world ignored the way in which tax revenues, which rightfully belonged to developing countries, disappeared as people exploited different tax regimes, and made a mockery of governments in the developing world. We must work together to overcome it.

To disrupt the vicious cycle of inequity in the systems of tax and trade, we must first create a level playing field whereby responsible and thriving companies are attracted to trade and do business in a fair and transparent way.

As the UK will meet its promise to spend 0.7 per cent of GNI on international aid in 2013, it is vital that the benefits of aid are not wiped out by losses sustained by multi-nationals or individuals gaming countries' tax systems.
International Development Minister Lynne Featherstone said:
In the year that we chair the G8, it is right that we use our aid and expertise to boost tax revenues in the poorest countries and help them to stand on their own two feet.

Helping developing countries to collect taxes means they can improve their own public services such as health and education. It also helps attract the investment and trade they need to grow and develop.
Direct trade between the UK and Mozambique and the UK and Ethiopia is booming. UK exports of goods to Mozambique nearly doubled comparing January to November 2012 with the same period in 2011. UK exports to Ethiopia more than doubled in 2011 compared with 2010.
Britain's G8 agenda will be of direct relevance to Africa. The emphasis on tax, trade and transparency comes from the devastating effect that a loss of revenue can have, particularly on developing countries. When developing nations lose revenues, their health and education systems are undermined, along with their stability.
The UK government has already done some work in this area. In Ethiopia, a flagship governance programme backed by UK aid, has helped achieved growth in tax collection from 8.2bn birr per year in 2002 to 55bn birr in 2011.
The ministers will also visit more business-led initiatives that have now got off the ground with the help of UK aid, including:
Vodacom's M-Pesa system in Mozambique - allowing people to carry out financial transactions using their mobile phones, giving access to banking to millions of people who can currently only trade using cash
Clean Star biofuels - a UK-registered company that produces ethanol from cassava for use on clean cooking stoves - reducing the reliance on dirty charcoal cooking that is linked to poor health including asthma
Follow all the coverage from the trip on the Cabinet Office website.
Published 13 February 2013