Taskforce to assess judgment in holiday pay ruling
Vince Cable announces the setting up of a taskforce to assess the possible impact of the Employment Appeal Tribunal ruling on holiday pay.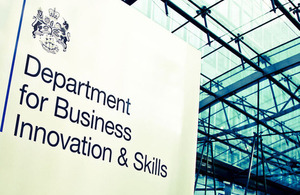 Business Secretary Vince Cable has today (4 November 2014) announced he is setting up a taskforce to assess the possible impact of the ruling on holiday pay from the Employment Appeal Tribunal.
The taskforce will consist of a selection of government departments and business representative groups. The taskforce will provide a forum to discuss how the impact on business can be limited.
Business Secretary Vince Cable said:
Government will review the judgment in detail as a matter of urgency. To properly understand the financial exposure employers face, we have set up a taskforce of representatives from government and business to discuss how we can limit the impact on business. The group will convene shortly to discuss the judgment.

Employers and workers can also contact the Acas helpline for free and confidential advice.
In today's judgment the UK Employment Appeal Tribunal decided that holiday pay should reflect non-guaranteed overtime.
Notes to editors.
The business representative groups on the taskforce include: * Confederation of British Industry * EEF, the Manufacturers Organisation * Federation of Small Businesses * Institute of Directors * British Chambers of Commerce * British Retail Consortium * Civil Engineering Contractors Association
The Department for Business, Innovation and Skills will chair the group. Relevant government departments will be invited to attend.
The government has previously argued that overtime should not be included in holiday pay.
Employers and employees can contact Acas 0300 123 1100 for free support and advice.
Published 4 November 2014