World news story
Tashkent Celebrates Burns Night
On 25 January Her Majesty's Ambassador to Uzbekistan Mr Christopher Allan hosted a Burns Night in Tashkent.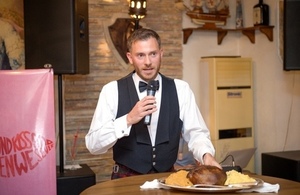 On 25 January Her Majesty's Ambassador Mr Christopher Allan organised a reception to mark the birthday of the great Scottish poet Sir Robert Burns. This is commemorated as 'Burns Night' and it is an important event in the Scottish calendar. At Burns Nights events, guests commemorate the poet's legacy, read his poems, dance to traditional Scottish music and are treated with traditional Scottish food, including haggis and cock-a-leekie soup.
Over a hundred guests attended the Burns Night event in Tashkent. This gave them an excellent opportunity to learn more about the poet's life and work, as well as Scottish culture, food and beverages, literature and traditions. During the festivities, many of Burns' poems were recited, where he conveys his passion for life, humanity, justice and for making the world a better place.
The Ambassador gave a speech about Burns' great legacy and interesting facts related to his works.
Robert Burns was born on the 25th January 1759, 257 years ago today. He is still celebrated today as Scotland's national poet and lyricist, and by far the best known to have written in the Scots dialect. His works span themes ranging from love to politics and philosophy, and these and his rural, working class roots make his poetry particularly meaningful to many around the globe.
The event was generously sponsored by Uzbek importers of Chivas Regal, a famous blended Scotch whisky, served during the evening.
Published 28 January 2016