Targeting illegal firearms to help end gang violence
A consultation on strengthening the law on illegal firearms was launched by the Home Secretary today as part of the government's drive to end gang and youth violence.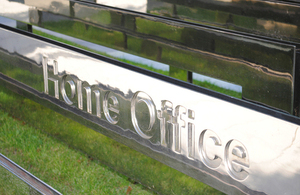 The public, police, Crown Prosecution Service, victims groups, the judiciary, voluntary and community organisations will be asked their views on:
the need for a new offence of possession of illegal firearms with intent to supply
whether to increase the penalty for illegal importation of firearms
Guns in gangs and organised crime
The UK has some of the toughest gun laws in the world and as a result firearm offences continue to make up a small proportion of overall recorded crime.
However, gun crime associated with street gangs and organised criminals, particularly in our largest cities, is a cause of major concern with young people featuring disproportionately among both perpetrators and victims. 
Home Secretary Theresa May said: 'We need to target not just those who use illegal firearms but those who import or supply them.  These middle men are as responsible as those who pull the trigger for the terrible harm gun crime causes.
'We must ensure our laws properly punish and deter all criminals and protect our communities.  That's why, as part of the cross-government work to end gang and youth violence, we are giving the police and local agencies all the tools and powers they need.'
Time to strengthen laws?
While there are a range of existing offences, none deal specifically with possession with intent to supply illegal firearms.
At the same time, the police have argued that current maximum penalty for illegal importation - 10 years' imprisonment - is too lenient and does not reflect the harm caused by firearms to our communities. 
Contribute to the online consultation which will run for 12 weeks.  It is the latest government action to deliver on commitments in Ending Gang and Youth Violence published in November 2011.
Published 8 February 2012