Tankies set up new home with Afghan Police
Troops from the 2nd Royal Tank Regiment (2 RTR) have begun a 'DIY-SOS-style' makeover of their new home in Helmand province.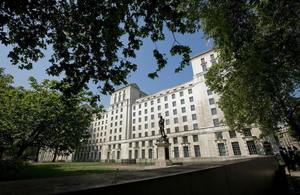 As part of ongoing training and development of the Afghan National Police (ANP), and movements towards giving them greater responsibility for security in Lashkar Gah, 2 RTR's Falcon Squadron have relocated from the main operating base in Lashkar Gah to the relatively sparse surroundings of the checkpoint known as 'Bolan Super Sangar'.
The 2 RTR 'Tankies' are working alongside the 3rd Precinct Afghan National Police, who are based at the checkpoint and who patrol the Bolan Desert.
Already the partnership has got off to a good start, with joint operations seeing the arrest of insurgents as well as more normal, non-insurgency-related police operations.
Since arriving at Bolan Super Sangar the 2 RTR troops have made the place their own by building additional 'log-cabin-style' accommodation, an improved operations room, a gym and a welfare room.
They have also improved cooking facilities, installing a 'No 5 cooker', a special cooker designed for preparing meals in the field from rations.
Falcon Squadron will operate by rotating its multiples (groups of 12-15 men) between mentoring the police on operations in Bolan and performing Quick Reaction Force duties from central Lashkar Gah.
Major Chris Fisher, Officer Commanding Falcon Squadron 2 RTR, said:
We have only just moved into the area but already we are building a relationship with the police here, who are to be our partners for the rest of the tour. We are looking forward to getting to know them even better, both in the checkpoint and out on patrol.

We have already partnered our new ANP 'house mates' in arresting a local paedophile and two insurgents from the Nad 'Ali area nearby. During this latter operation, we confiscated a PKM heavy machine gun that had been used against the ANP in a fire fight prior to the arrests, as well as their motorcycle and IED components found on them.

All of those arrested have been detained at the Police HQ and, if found guilty of charges, await a life of imprisonment.
Published 26 January 2011