Tankies in Helmand start work in the Warthog vehicle
Soldiers or 'Tankies' from the 2nd Royal Tank Regiment (2 RTR) currently delivering security in Afghanistan have traded in their old Viking vehicles and upgraded to the mighty Warthog.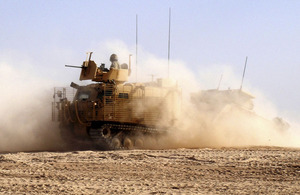 2 RTR, who are now known as the 'Warthog Group', will use the armoured vehicles' outstanding manoeuvrability to bring firepower and armoured support wherever it's needed.
Warthog is a relatively light but robust tracked vehicle. It consists of two cabs, with the front cab housing the driver and commander and armed with a heavy weapons turret, and the rear cab used for carrying infantry.
The new vehicle has greater armour protection and more power than its predecessor, but still retains the superb cross-country performance for which the Viking was known.
Corporal Tristan 'Tiny' Cordery, aged 35, from Fowey in Cornwall, is a veteran of two tours of Iraq and one of Kosovo, and has also served in Afghanistan before. He has now returned to Afghanistan as a Warthog commander with 2 RTR.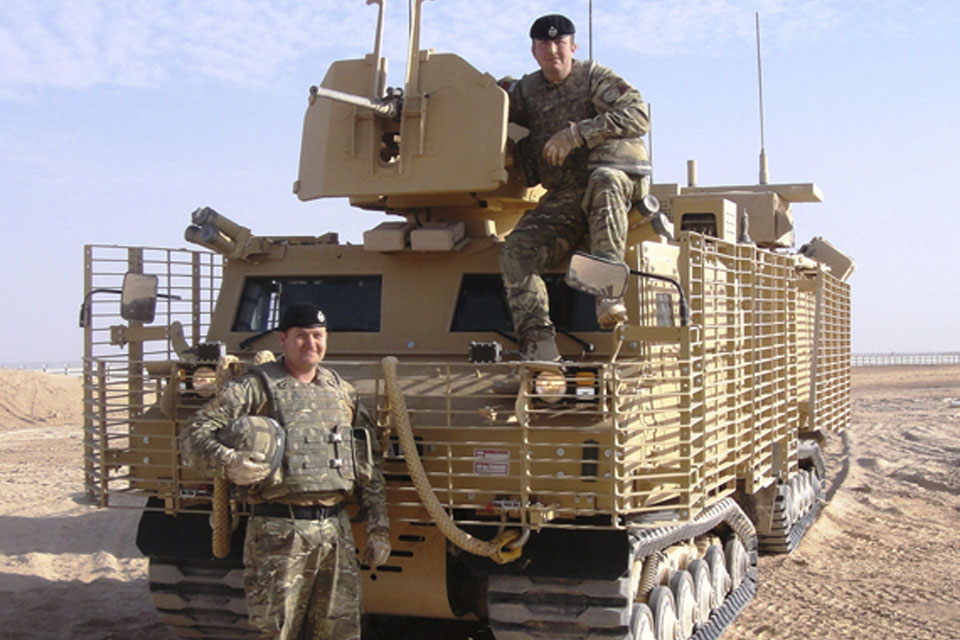 Corporal Cordery said:
I'm excited about using the new Warthog vehicle. We can use Warthog to get where other vehicles cannot go. We can move around the battlefield and provide protection to the infantry and engineers while they work.
Trooper Nick Dinsdale, 29, from Basildon, Essex, will be driving a Warthog in Helmand. He said:
I joined the Royal Tank Regiment to drive big vehicles and Warthog really is a big boy's toy. It's great cross-country.
I like the versatility of tracked vehicles - where you can go and what you can do is so much greater than with wheels. It does take some getting used to though. We've tested Warthog to the limit - I'm really impressed with it.
Warthog isn't just about mobility though; it's also about packing a punch and defeating the insurgents.
Corporal Cordery explained:
We can choose between the heavy, grenade or general purpose machine guns. This gives me as the Warthog commander the flexibility to tailor my armament to the mission - and that's a vital capability in order to succeed in the complicated environment of Afghanistan.
With this firepower comes good armour. The Warthog can take rocket-propelled grenade hits, machine gun fire and has better protection from IEDs.
This combination of firepower and protection is what us Tankies are looking for in a vehicle. We're ready to go out with a RTR mentality and apply armoured tactics.
Lieutenant Andrew Maggs, 25, from Guildford, commands a troop of 2 RTR vehicles in the Warthog Group. His first missions are to protect development projects which are Afghan Government priorities. Under the watchful eye of the Warthog Group, roadworks connecting Sangin and Lashkar Gah will be able to proceed quicker and more safely.
Lieutenant Maggs said:
I'm really keen to crack on with work. Warthog is a great bit of kit. As specialists at fighting on vehicles, we're looking forward to using it and showing what it can do.
This week Prime Minister David Cameron met soldiers from 2 RTR in Helmand and inspected the new vehicles while announcing a package of measures to boost the Afghan campaign - see Related News.
Published 7 December 2010