Tankies home from Helmand
Thirty-nine soldiers from G Squadron of the 1st Royal Tank Regiment (1 RTR) were welcomed home by loved ones when they returned to their base at RAF Honington in Suffolk last week following their deployment in southern Afghanistan.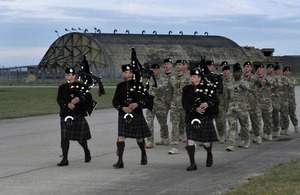 110 soldiers or 'Tankies' from G Squadron deployed to Afghanistan. The remaining troops will return over the next few weeks.
Lance Corporal Dan Wenlock, who was met by his wife, Sam, and their two-year-old daughter, Poppy, said:
I'm a Mastiff commander and we had a very busy tour alongside the Grenadier Guards. We did our job really well, which is all down to the hard work we'd put into training before we deployed.
I'm over the moon to be back to see the kids. They have changed so much in the six months I've been away and I'm really looking forward to having some quality time with them.
Sam Wenlock said:
The welfare team have really looked after us, with lots of events and outings put on for families.
It's lovely to have Dan back. Over the last week me and Poppy have been counting down the number of sleeps until daddy's back, and she was so excited this morning when there were no more to count!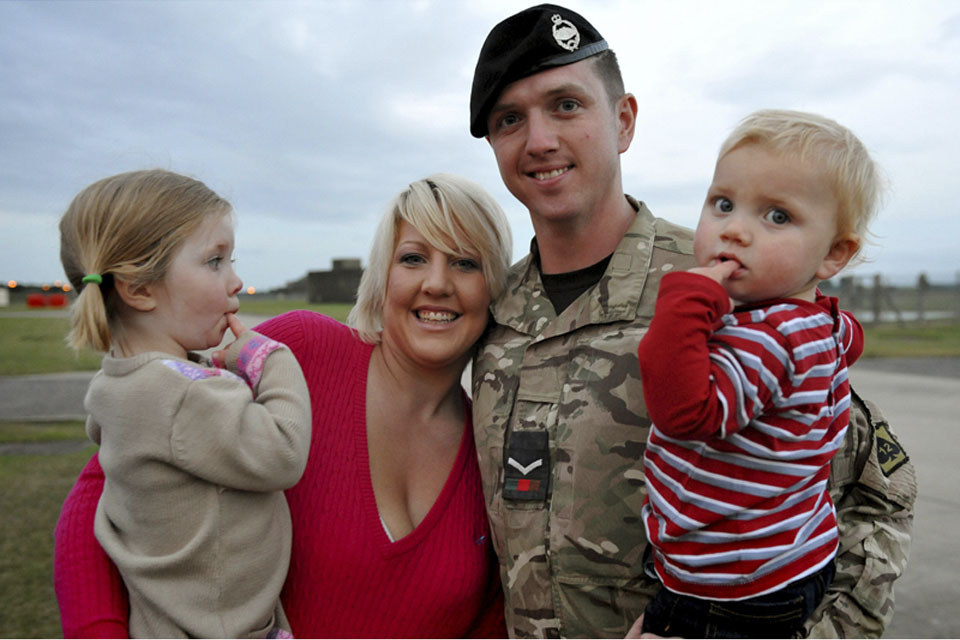 G Squadron used the Mastiff, a heavily armoured 6x6-wheel-drive patrol vehicle, to bring firepower and armoured support wherever it was needed, including supporting the Grenadier Guards and 1st Battalion The Royal Anglian Regiment.
Known as the Mastiff Troop the soldiers were involved in fighting the insurgents, patrolling towns and villages, and providing protected mobility for the troops on the ground. Each Mastiff was crewed by three 1 RTR soldiers: a driver, commander and gunner.
Another father, Corporal Semi Navuku, who was returning from his third Op HERRICK tour, said:
Now I have children it was a very different experience to be on tour and apart from them. It was a busy tour but everyone did really well. It's particularly good to have gone out as a troop of 18 and come back to our families with no-one wounded.
Kalivati was only five weeks old when I left and it's amazing to see how he has grown. Heather's sent me pictures which kept me up-to-date and it was lovely to see him smile when I cuddled him.
Corporal Navuku's partner, Heather Wade, said:
It's been a long time and hard to be on my own with the children to look after, but it's fantastic to have Semi back.
Troop leader Captain Pete Eadon said:
Our role is to move troops and provide fire support, and the area we were operating in has borne the brunt of fighting this summer. The blokes were outstanding and worked well with the Grenadier Guards, with the firepower, manoeuvrability and protection of our Mastiffs proving decisive on many occasions.
It is great to be home to see our families. An operational tour is harder for the families left behind who do not know what we are doing and just have to get on with life.
It is six months of worry for them, when for soldiers it's six months of doing the job that they have trained for.
A further 96 soldiers from the regiment's D Squadron will remain in Afghanistan until the start of November.
Based in Camp Bastion, they are responsible for delivering the Reception, Staging and Onward Integration training that is mandatory for all soldiers entering Afghanistan. It is the final stage of a six-month-long training package to ensure that the soldiers have the most up-to-date tactics, techniques, procedures and intelligence at their disposal.
A homecoming parade for 1 RTR will take place in Bury St Edmunds on 28 November 2012.
Published 2 October 2012